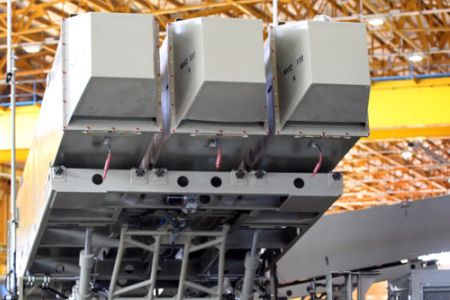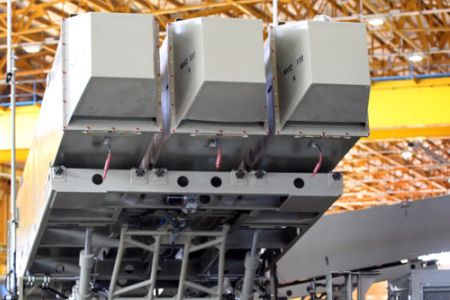 A senior Iranian commander says the Islamic Republic of Iran's Air Force (IRIAF) has managed to produce domestically-manufactured smart weaponry, including new cruise missiles.
Iran has mass-produced and test-fired new cruise missiles which have the capability to destroy naval targets, IRNA quoted IRIAF Deputy Commander for Operations General Mohammad Alavi as saying on Sunday.
He added that Iranian experts also managed to change the structure of ground-based missiles to air-based missiles and install them on fighter bombers of Iran's Army.
General Alavi added that Iran also produced ultra-heavy bombs with huge tonnage and high destructive capabilities.
He expressed hope that Iranian experts would make great achievements pertaining to electronic war.
The top Iranian commander warned neighboring and regional states that Iran's Air Force is fully prepared to "strongly counter any threat."
On April 18, Iranian Defense Minister Brigadier General Ahmad Vahidi said Iran's Army has been equipped with a new cruise missile and missile defense system.
"Recently, we witnessed the test-firing of Shahin (Hawk) and Shalamcheh missiles of the country's defense system, which were successfully tested and delivered" to different army units, he said.
Brigadier General Vahidi added that Zafar (Triumph) missiles, "the fastest cruise missiles," can, together with other systems, substantially boost the country's defense capabilities.
His comments came after Iran announced that it has successfully test-fired another air-defense missile system dubbed Sayyad-2 (Hunter II).
The newly tested system is an upgraded version of the Sayyad-1 system with higher precision, range and defensive power and will be unveiled in the near future.
Sayyad-1 is comprised of two-stage missiles that can target all kinds of aircraft, including bombers, at medium and high altitudes. It is also equipped with a 200-kilogram warhead and has a speed of 1,200 meters per second.
The Sayyad-1 anti-aircraft missile system can be used in electronic warfare and against low radar cross-section systems.
In recent years, Iran has made great achievements in its defense sector and attained self-sufficiency in producing essential military equipment and systems.
In January, Iran successfully test-fired mid-range, surface-to-air Hawk missile and the Iranian Defense Ministry delivered new cruise missile systems to the Navy.
The systems, designed and manufactured by Iranian experts, are capable of spotting and destroying different targets at sea.
The Navy has successfully test-fired a range of powerful missiles mounted with laser technology, which display high precision and have a range of 45 km (28 miles) to 300 km (186 miles).