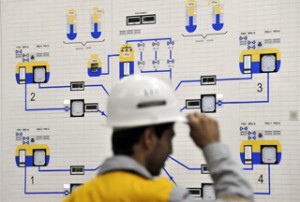 After Iran announced plans to construct at least ten more nuclear sites, the former deputy chief of the Atomic Energy Organization (AEO) of Iran has been tasked to oversee the project.
Head of the AEO Ali Akbar Salehi made the announcement on Monday adding that the former deputy chief, Mohammad Saeedi, is slated to assume another position as well but did not elaborate.
Saeedi resigned from his AEO position last week. He had been a member of Iran's nuclear negotiation team since 2004.
Iran approved plans in November to build 10 industrial scale uranium enrichment facilities, using a new generation of more efficient and more productive centrifuges.
"We are in need of 20 thousands megawatts [of electricity] that means 20 [times the amount the] Natanz [facility can produce]," Salehi had said earlier in an exclusive interview with Press TV.
"Now the government has decided to have ten sites with the same size as Natanz; of course when I say with the same size as Natanz it is concerning the amount of fuel that is produced and it is about thirty tons per year. Every site will be producing thirty tons per year which is enough for one nuclear power plant," he added.
The enrichment plants are set to be constructed in mountainous areas, which are hard to penetrate in the event of a military attack.