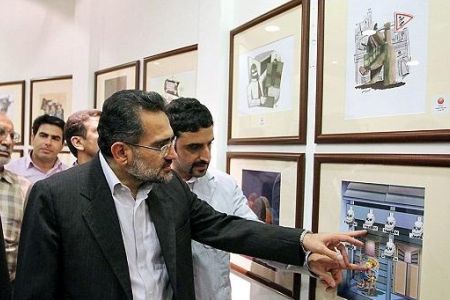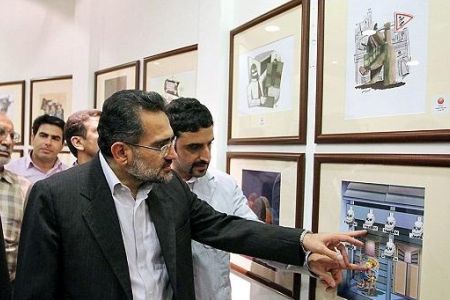 Iran has announced winners of its first edition of the Cartoon and Photo Exhibition on International Terrorism during a ceremony at the Iranian Artists Forum (IAF).
The Iranian Minister of Culture and Islamic Guidance Seyyed Mohammad Hosseini, Deputy Culture Minister for Artistic Affairs Hamid Shahabadi and Iranian Office for Visual Arts director Mahmoud Shalui attended the opening ceremony in Tehran.
Iran's Hamid-Reza Mosabbebi won the first prize of the cartoon section, while the second and third awards went to Sandro Melo from Brazil and Ross Thomson from the UK respectively, Mehr News Agency reported.
Agim Sulaj (Albania), Paul Kuczynski (Poland) and Iranian cartoonists Hamid Bahrami, Mohammad-Reza Doust-Mohammadi, and Mohammad-Amin Aqai judged the cartoon section.
In the photography section, Iran's Yalda Moayyeri won the first prize for her 'Photos of the 33-Day War' collection.
Mehdi Qassemi won the second prize with his 'Ashura Noon in Karbala' collection and the third prize went to Morteza Yarahmadi for his single photo 'Iranian Scientists' Assassination.'
Iranian photographers Mohammad Sattari, Mohammad-Mehdi Rahimian and Amir-Ali Javadian served as the jury of the event's photography section.
A selection of 150 cartoons and 46 photos by the Iranian and international participants will be displayed at the IAF until September 9, 2011.