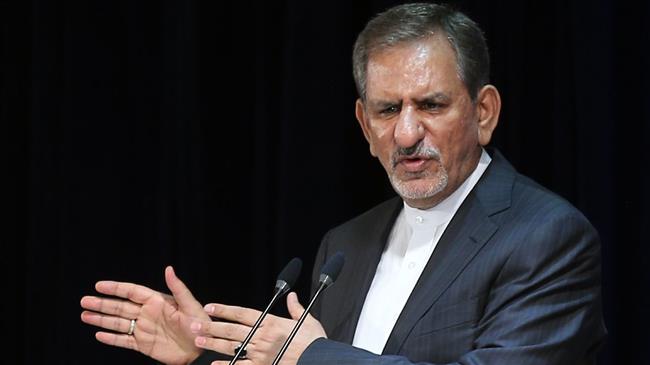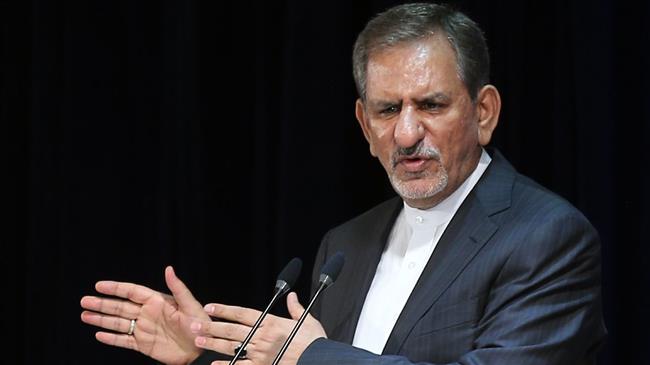 Iran's First Vice President Es'haq Jahangiri says the government will announce on Monday its new Forex policy in the face of the looming US sanctions.
In an address to reporters on the sidelines of the Supreme Council of Economic Coordination's meeting held under President Hassan Rouhani and attended by the heads of legislative and judiciary branches, Jahangiri said today Iran is in dire need of new decisions.
He then referred to the approval of the generalities of the new foreign currencies policy during the council's meeting and said the cabinet ministers will discuss in details and finalize the policies in their Sunday weekly meeting.
According to Jahangiri, the new policies have been formulated by the new governor of the Central Bank of Iran and government's economic team in line with the new terms and conditions in the country.
"Given the new economic situation in the country and due to the looming US sanctions on Iran, our economy is in dire need of new decisions and amendment of earlier policies," he said.
Iran's first vice president then said the new policies are mainly aimed at providing the essential goods at the official rate.
"The government bodies are set to monitor the distributed currency to ensure market's demands are met…Meanwhile, the economic actors involved in import/export transactions as well as those individuals in desperate need of foreign currencies for special issues would be provided with special facilities," he noted.
The Iranian authorities have already unveiled plans to float the pricing of Dollar as part of efforts to stop the drastic crash of the rial.
The new policies are formulated as the value of the rial has sharply declined hitting a new low against foreign currencies over past days.