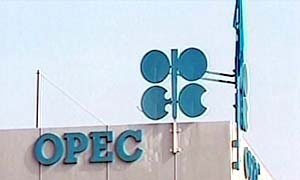 Iran's envoy to the Organization of the Petroleum Exporting Countries (OPEC) says there is currently no big difference between demand for OPEC oil and the group's supply.
"The figures show a balance between supply and demand in the oil market," Mohammad Ali Khatibi told the semi-official Mehr news agency on Monday.
"OPEC crude output in recent weeks has been 29 million barrels per day which is lower than the demand for it, estimated at 29.3 million barrels per day in the last quarter of 2009," the Iranian oil official said.
Khatibi said that the current balance in the global oil market will be sustained during the next six months, adding that the balance will be upset if OPEC increases its output.
Earlier this week, Khatibi said there is no valid justification for the group to cut its oil production targets.
"Considering the current supply and demand situation in the oil market, it is likely that OPEC will maintain the quota at a forthcoming meeting in December, should conditions be met," Iran's OPEC governor said on Saturday.
"An increase in the OPEC oil quota will create pressure on oil prices in the global market," he added.
Most OPEC members believe it is too early to decide on any changes in the output as stockpiles remain high.
The producer group has kept official production targets unchanged at its meetings this year after it agreed to curb output by 4.2 million barrels per day last year.
OPEC is due to discuss its production quotas at its next meeting in Angola on December 22.