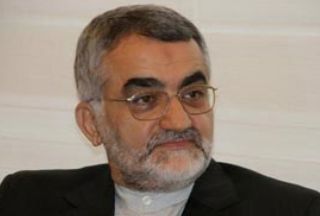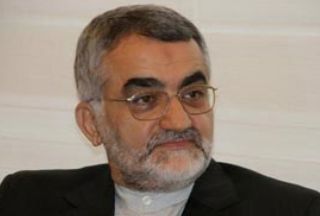 A top Iranian lawmaker says there has been no talk of downgrading relations with Russia despite grievances over certain behavior by the Kremlin vis-a-vis Tehran.
"The question of reducing relations with Russia was not on the table at the meeting of the (Parliament's) National Security (and Foreign Policy) Committee", chairman of the committee Alaeddin Boroujerdi was quoted by IRNA as saying on Sunday.
"Of course, there is no denying that the Iranian public and officials are discontented with some measures adopted by Russia, particularly regarding UN Resolution 1929", added the top MP.
He said Moscow could have abstained from voting 'at least'.
Boroujerdi referred to Russia's foot-dragging on the delivery of the S-300 Missile System to Tehran as another reason behind Iran's resentment.
Nevertheless, he underlined, Tehran and Moscow enjoy numerous common interests.
"Russia is better aware than any other country of Washington's policies vis-à-vis Moscow, including the US Missile Defense Shield (in Europe) which is a direct threat to Russia as well as America's policies which led to the collapse of the former Soviet Union", the top legislator further told IRNA.
"Russia also knows well that Iran is the only country in the region which has seriously stood up to the United States' acquisitiveness", added Boroujerdi.
"For Russia to rectify its past mistakes, high-level talks should take place between parliamentary and government officials of both countries", added Boroujerdi.