Iran
Iran not to bow to Great Satan US illegal demands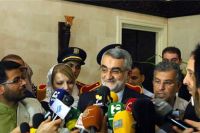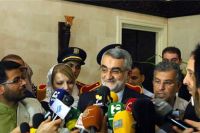 Chairman of the Iranian Parliament's National Security and Foreign Policy Commission Alaeddin Boroujerdi has reaffirmed Iran's firm stance on its inalienable nuclear rights, and urged the US not to insist on its excessive demands.
"Iran will not bow to the US's illegal demands," Boroujerdi told reporters on Wednesday.
The prominent lawmaker reiterated that if Washington insists on its excessive demands, the negotiations with the Group 5+1 (the US, Russia, China, Britain and France plus Germany) will bear no result.
He pointed to the ongoing Iran-G5+1 talks, and said, "The nuclear talks are conducted by Tehran based on Iran's national interests and within the framework of international rules and the non-proliferation treaty (NPT) and International Atomic Energy Agency (IAEA) regulations."
Boroujerdi underlined that Iran is entitled to the right to have and maintain its own nuclear knowledge, "and this is a right that has been achieved through the efforts of Iranian scientists".