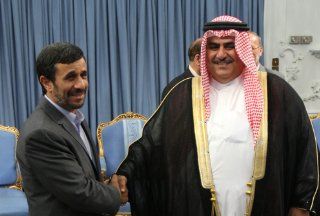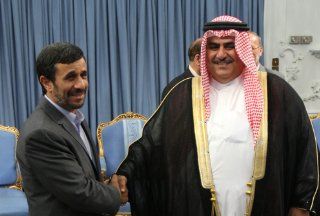 Iranian President Mahmoud Ahmadinejad says Tehran will not tolerate any acts of aggression in the Middle East and will stand by its neighboring countries.
During a Tuesday meeting, Ahmadinejad told Bahrain's Foreign Minister Sheikh Khalid bin Ahmed Al Khalifa that Iran would be ready to retaliate in case of a military attack.
"There are those who want to swallow our region, mutilate the Palestinian nation and not here a sound from regional states," the Iranian president was quoted as saying by IRNA.
"Despite enemy propaganda, domineering and corrupt powers are on the verge of dissolution," He added. "We have warned before that should these domineering powers act against any of the regional countries, Iran will retaliate and stand by its brethren."
Manama's top diplomat said Bahrain also opposed the presence of foreign forces in the Middle East and deemed the surge in the number of foreign troops as a "general threat" to the region.
He firmly rejected reports that Bahrain had allowed Israeli submarines to pass through its waters.
"These reports are not accurate and Bahrain would never allow Israeli forces on its soil," Al Khalifa stressed.