Iran
Iran nuclear deal should be fair, balanced: Iranian Official tells Amano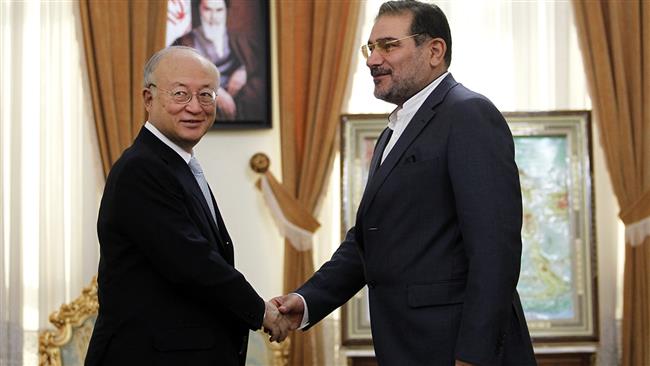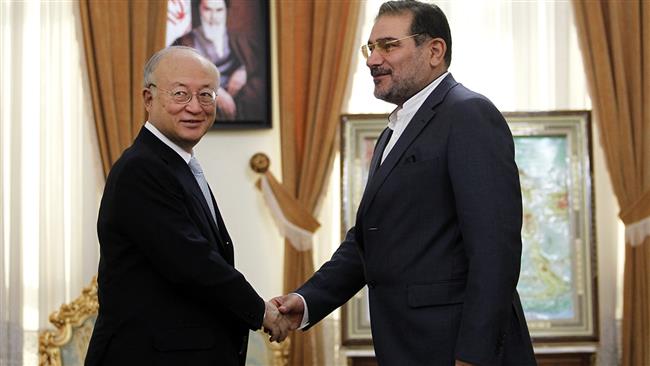 A senior Iranian official has reiterated the country's determination to reach a fair and balanced agreement with the P5+1 group of world powers over Tehran's nuclear program.
In a meeting with Director General of the International Atomic Energy Agency (IAEA) Yukiya Amano in Tehran on Thursday, Secretary of Iran's Supreme National Security Council Ali Shamkhani said a possible deal must ensure the rights of Iran as a signatory to the nuclear Non-Proliferation Treaty (NPT).
Amano is in Tehran for nuclear talks with Iranian authorities over the nation's nuclear program.
A lasting agreement is one which would satisfy all parties to the talks, said the Iranian official.
Shamkhani also stressed the peaceful nature of Tehran's nuclear program, expressing the Islamic Republic's readiness to continue its cooperation with the IAEA.
Iran welcomes any proposal that would pave the ground for the development of the country's "peaceful nuclear industry" and the "unconditional lifting of illegal and cruel sanctions" against the country, Shamkhani said.
Amano, for his part, expressed satisfaction over his trip to Iran and said the Islamic Republic's concerns regarding joint cooperation with the agency are understandable.
The visiting IAEA chief is also expected to sit down with Iranian President Hassan Rouhani.
The Vienna-based nuclear agency said in a statement on Wednesday that during his stay in Tehran, Amano hopes to "accelerate the resolution of all outstanding issues related to Iran's nuclear program."
Amano's visit comes as the IAEA has recently confirmed Tehran's commitment to what was agreed with six world powers in 2013.
In its latest report, which was circulated among members of the IAEA's 35-nation Board of Governors and the United Nations Security Council on Wednesday, the UN nuclear watchdog said by Tuesday, June 30, Iran's low-enriched uranium stockpile was just below what had been agreed under a November 2013 interim deal reached between the Islamic Republic and the P5+1 group – the United States, Britain, Russia, China and France plus Germany.
Representatives from Iran and the P5+1 group are working together in the Austrian capital, Vienna, to finalize the text of a possible deal over the Islamic Republic's nuclear program.
The negotiations are set to intensify on Thursday, with senior officials returning to talks in the Austrian capital.
The foreign ministers of France, Germany, Britain and China are expected to arrive in Vienna, where Iranian Foreign Minister Mohammad Javad Zarid and US Secretary of State John Kerry have been engaged in talks for days.
European Union Foreign Policy Chief Federica Mogherini will also take part in the nuclear negotiations.
The two sides have extended their self-imposed end-of-June deadline for one more week until July 7.