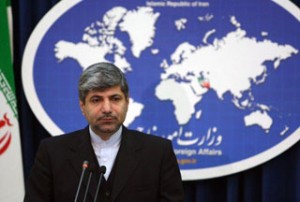 Iran has offered condolences to Chile over Saturday's devastating earthquake, which has claimed the lives of more than 700 people in the Latin American country.
"I would I like to express my condolences to the people and government of Chile on behalf of the Iranian nation and government," Foreign Ministry Spokesman Ramin Mehmanparast said in a statement issued on Sunday.
"We hope and pray that those injured in the incident will recover as soon as possible," he added.
Mehmanparst also said that Tehran was reviewing how it could help alleviate the people's suffering in the aftermath of the quake by sending humanitarian assistance to the country.
Iran, a country which sits on some of the world's most dangerous fault lines, has itself been the victim of some catastrophic earthquakes over the past few decades.
One of the deadliest was the 2003 Bam earthquake, which left over 28,000 people dead.
The Iranian offer of help came after President Michelle Bachelet announced the new death toll following a meeting with aides and emergency officials.
The outgoing president, who leaves office on March 11, said that her country faced a "catastrophe of such unthinkable magnitude that it will require a giant effort" for it to fully recover.
She also said that Santiago would accept some of the offers of aid that have poured in from countries around the world.
Saturday's deadly 8.8 magnitude quake, which was definitely one of the most powerful earthquakes Chile has experienced in centuries, has left large parts of the country in ruins with roads, hospitals, airports, and water supply systems damaged.
The official death toll from Saturday's earthquake is now 708, the Chilean president told reporters on Sunday.
In addition, many others are missing and some are believed to be trapped alive under rubble.
According to early estimates, it will cost around $30 billion to repair the damage caused by the earthquake.