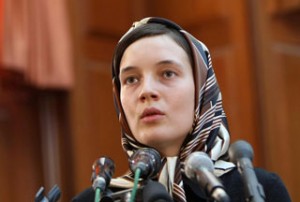 Iran says it will let a young Frenchwoman standing trial in Tehran over espionage charges stay in the French Embassy during the case.
The Iranian Ambassador to Paris Mehdi Miraboutalebi said on Tuesday that judicial authorities would grant 24-year-old French academic Clotilde Reiss conditional release "if the (French) government and ambassador promise she lives in the French Embassy in Tehran until the judicial process ends," AFP reported.
Paris has not yet responded to the offer, Miraboutalebi told Radio France Internationale. France has repeatedly denied charges brought against Reiss.
Reiss as well as French Embassy staffer Nazak Afshar were among hundreds of defendants on trial Saturday, who were taken into custody after the re-election of Iranian President Mahmoud Ahmadinejad in the June 12 poll triggered widespread protests across the country.
The office of French President Nicolas Sarkozy said on Monday he had increased diplomatic and high-level contacts to secure Reiss' release.
Earlier on Tuesday, a French government spokesman said Paris was hopeful after Sarkozy's efforts that Reiss would soon be released.
Reiss told an Iranian court on Saturday that she had written about Iran's nuclear power program as well as the post-vote developments for the French Embassy in Tehran.
The 24-year-old Reiss, a lecturer at the Isfahan Technical University, said she had taken part in post-election protests, but added that it was her own decision and no one had asked her to do so.