Iraq
Iran
Middle East
Iran offers help to neighboring Iraq after tragic hospital fire
Iran has expressed its preparedness to offer assistance to neighboring Iraq after a fatal fire tore through the COVID-19 isolation ward at a hospital in the southern city of Nasiriyah.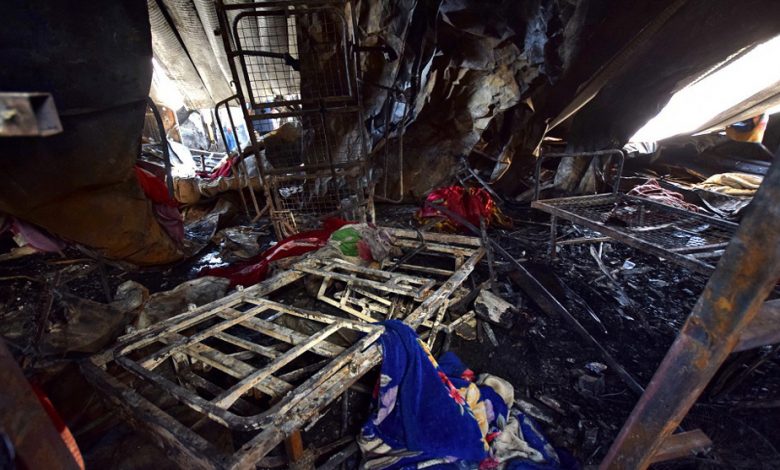 On Tuesday, Iran's Foreign Ministry spokesman Saeed Khatibzadeh voiced sympathy with the Iraqi government and people, especially the families of the victims.
Offering the Iranian nation and government's condolences to Iraq, he wished divine mercy for the dead and recovery for the injured.
Khatibzadeh further said Iran stands ready to provide medical assistance to Iraq.
At least 66 people have been killed and more than 100 other wounded in Monday's fire at Nasiriyah's Imam Hussein Hospital, Alsumaria TV network reported.
Initial police reports suggested that an oxygen tank explosion inside the hospital's COVID-19 wards was the likely cause of the incident.'More than 60' perish as blaze devours hospital in S Iraq: ReportsRaging fire engulfs a training hospital in the southern Iraqi city of Nasiriyah, reportedly killing more than 60.
Karim Hemmati, the president of the Iranian Red Crescent Society (IRCS), called his Iraqi counterpart Yasin Ahmed Abbas on Monday night to express Iran's readiness to send aid to Iraq and support the Iraqi Red Crescent Society.
Similarly on Tuesday, Iran's Ambassador to Baghdad Iraj Masjedi spoke over the phone with an official from the Iraqi Health Ministry.
He expressed regret over the incident and sympathy with the Iraqi people and authorities.
The diplomat also extended his condolences to the bereaved families and asked God Almighty to grant forgiveness to the dead and immediate healing to the injured.
Masjedi further stressed Iran's readiness to help those affected by the blaze.
The Iraqi official, for his part, thanked the Iranian ambassador for calling the Iraqi Health Ministry, saying the move shows a sense of humanity and good neighborliness among the officials the Islamic Republic.