Iran
World News
Iran offers to help resolve Karabakh dispute diplomatically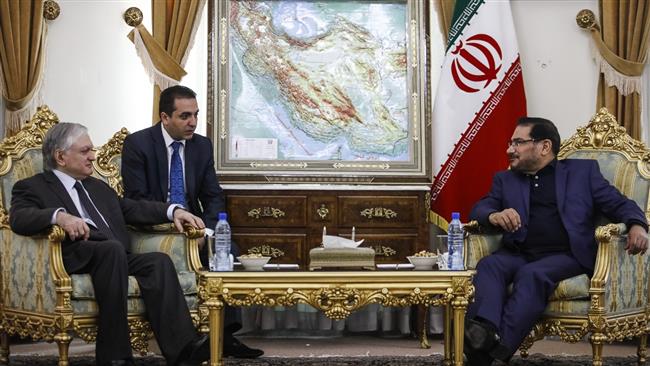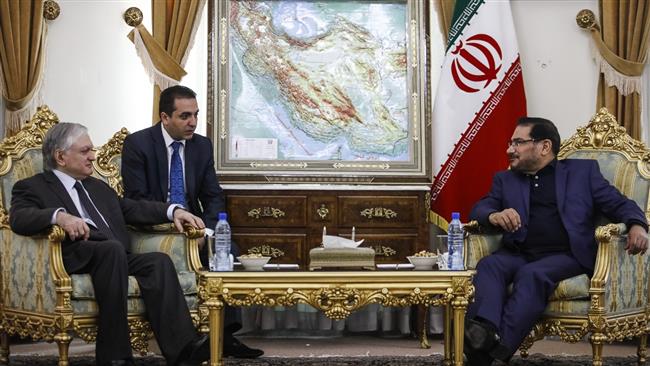 A senior Iranian official says the Islamic Republic is ready to help Armenia and Azerbaijan settle their dispute over the Nagorno-Karabakh region through peaceful approaches.
"Iran calls on both sides to exercise self-restraint and calm and stresses the necessity of avoiding the escalation of the crisis, which will seriously endanger the collective interests of regional countries," Secretary of Iran's Supreme National Security Council Ali Shamkhani said in a meeting with Armenian Foreign Minister Edward Nalbandian in Tehran on Monday.
In early April, Azerbaijani and Armenian troops used artillery, tanks, and other armaments against each other on a scale not seen since a separatist war concluded in 1994. According to reports, nearly 75 servicemen from both sides along with a number of civilians were killed in the latest skirmishes between the hostile neighbors.
A Russian-mediated truce went into effect later that month, but sporadic clashes have since continued.
The Karabakh region, which is located in the Azerbaijan Republic but is populated by Armenians, has been under the control of local ethnic Armenian militia and the Armenian troops after a six-year war, which claimed some 38,000 lives, ended in 1994.
Shamkhani also said that Iran attaches special importance to relations with its neighboring countries in different fields, adding, "The expansion of cooperation in such sectors as energy, agriculture, transit and transportation can provide proper grounds for a higher level of economic relations between the two countries."
He emphasized that Tehran and Yerevan have always enjoyed cordial relations which have never been affected by third parties, saying that the two sides' officials are taking decisive steps to guarantee common interests of the two countries.
Iran-Armenia to cooperate on fighting terrorism
The Armenian foreign minister, for his part, said Iran plays a leading role in political, security and economic developments in the region, adding that economic relations between Tehran and Yerevan can pave the way for strengthening security cooperation in the fight against terrorism and organized crimes.
Nalbandian stated that the international community should condemn the unconstructive approach taken by certain regional countries to exacerbate the situation in the region through funding, arming and training terrorist groups, calling for punitive measures against these states.