Economy
Iran
Middle East
Iran, Oman seek easier financial exchanges to boost trade
Iran and Oman will take steps to facilitate financial exchanges between the two countries amid plans to increase the value of bilateral trade by around five times.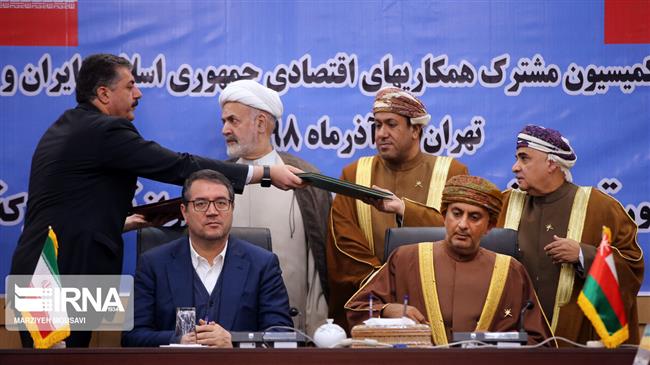 The Governor of the Central Bank of Iran (CBI) Abdolnasser Hemmati said on Saturday that easing restrictions on financial transactions with Oman would encourage businesses in the two countries to get involved in more exchanges in the near future.
"Transfer of money between Iran and Oman will be facilitated," said Hemmati while in a meeting with Oman's Minister of Commerce and Industry Ali bin Masoud al Sunaidy in Tehran.
Hemmati's comments came after his recent visit to Oman where the CBI governor explored ways that could help increase trade with the Arab country as Iran seeks to offset the impacts of American sanctions on its sale of oil.
Al Sunaidy, for his part, said that Oman was keen to expand its trade relations with Iran, adding that Muscat would spare no efforts to help and facilitate exchanges between businesses in the two countries.
Iran has seen its exports to Oman nearly quadrupled over the past years mainly as a result of government efforts to lower tariffs on export of food and agricultural products.
Iran reports five-fold increase in exports to OmanIran's exports to Oman have significantly increased over the past six years to reach $720 million.
Oman is also a main customer of Iran-made construction materials while Iranian companies keep providing various technical and engineering services to the Persian Gulf sultanate.
Al Sunaidy also met his Iranian counterpart Reza Rahmani on Saturday. The two officials said increasing bilateral trade by nearly five times and bring it nearly $5 billion would be a tangible target.
A report by the IRIB News said the two ministers oversaw the signing of three major agreements on standardization, marine transportation and sports cooperation.