Iran
Iran, P5+1 hold fresh round of nuclear talks in Oman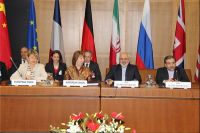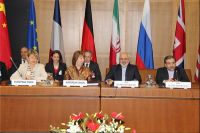 Top officials from Iran and the P5+1 group hold a fresh round of nuclear talks in the Omani capital, Muscat, following two days of discussions between Iran, the US and the EU.
The meeting, which is the ninth round of talks between Iran and the P5+1 group of world powers, started in Muscat on Tuesday and was led by Iran's Foreign Minister Mohammad Javad Zarif and EU's Catherine Ashton.
The talks came a day after lengthy discussions between Zarif, US Secretary of State John Kerry and Ashton wrapped up in Muscat.
Earlier in the day, Iranian deputy foreign ministers Abbas Araqchi and Majid Takht-e Ravanchi held two separate meetings with their British, German and French as well as Chinese and Russian counterparts.
The negotiating teams are concentrating their efforts on reaching a long-term deal over Iran's nuclear energy program ahead of the November 24 deadline.