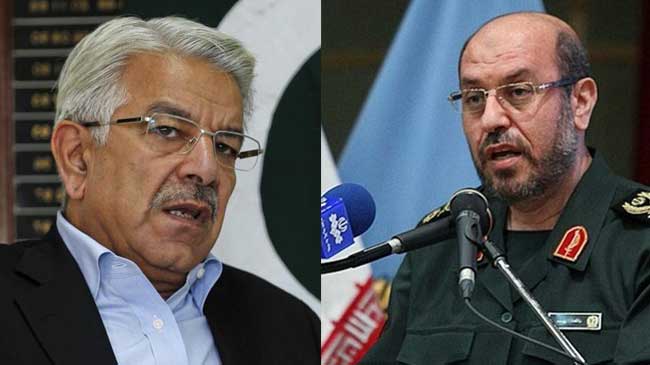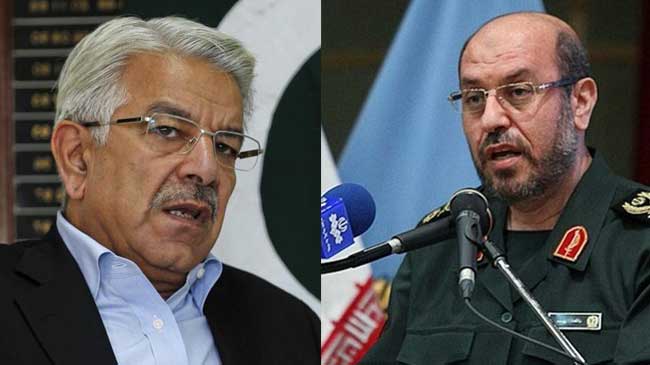 Iran and Pakistan have stressed the need for developing defense ties between the two neighboring countries, calling for joint action against terrorism.
Iranian Defense Minister Brigadier General Hossein Dehqan and his Pakistani counterpart, Khawaja Muhammad Asif, made the remarks during a meeting on the sidelines of the 3rd conference on international security in the Russian capital, Moscow, on Saturday.
Citing terrorism and drug trafficking as common problems facing the Islamic Republic and Pakistan, Dehqan said the status quo calls for "more Tehran-Islamabad efforts to combat these ominous phenomena."
Referring to Iran's policy regarding Pakistan, Dehqan also noted that Tehran has always shown "in practice" that it seeks a "developed, secure and stable Pakistan."
He also described the recent visit by Pakistani Prime Minister Nawaz Sharif to Iran and his meetings with senior Iranian officials as an indication of the determination of the authorities in the two countries to develop and deepen cooperation.
Heading a high-ranking delegation, Sharif made a two-day official visit to the Islamic Republic earlier this month.
Asif, for his part, underlined the religious and historical commonalities between the two countries and stressed the importance of a "powerful and stable" Iran for Pakistan.
The two sides also reaffirmed the necessity of efforts aimed at creating stability and security in neighboring Afghanistan.
Moreover, they demanded global efforts to prevent the funding and arming of terrorists operating in Syria in order to prepare the ground for the upcoming presidential elections in the Arab country.