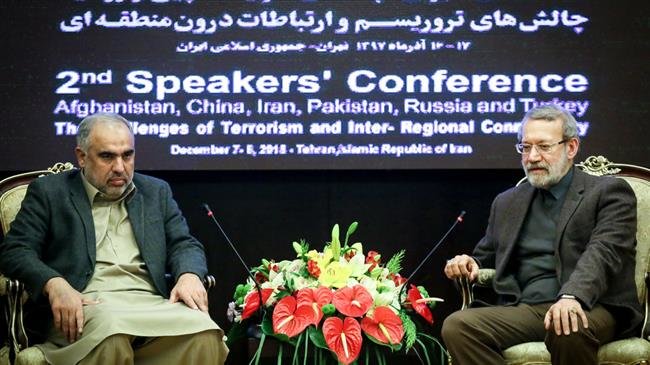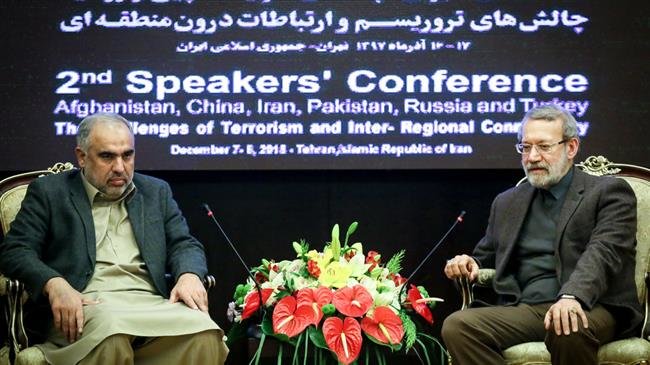 Tehran and Islamabad have pledged to reinforce cooperation in fighting terrorism given that both have been victims of terrorist attacks over the past years. 
In a meeting with Pakistan's National Assembly Speaker Asad Qaiser in Tehran on Friday, Iran's Parliament Speaker Ali Larijani said that terrorist groups had caused damage to many countries in the region and should therefore be countered through a joint action by all.
Larijani also called for boosting parliamentary, economic, trade, tourism and counter-terrorism ties between Iran and Pakistan.
Qaiser, who has travelled to Iran to attend the second conference of parliament speakers from Afghanistan, China, Iran, Pakistan, Russia and Turkey on the challenge of terrorism and inter-regional connectivity, thanked Iran for hosting the event and voiced regret about the Chabahar terrorist attack.
Pakistan feels honored to have brotherly relations with Iran, he said, expressing Islamabad's resolve to develop trade ties with Tehran.
Qaiser also underscored the need for developing relations between the two nations, saying Pakistan wants the eradication of terrorism which requires enhanced cooperation.
Elsewhere in his remarks, Larijani hoped that Iranian forces still held by Pakistan-based terrorists would be freed "as soon as possible through cooperation with the Pakistani government."
In mid-October, 12 Iranian forces were kidnapped by elements of the so-called Jaish ul-Adl terrorist group near the town of Mirjaveh in the southeastern province of Sistan and Baluchestan, and then spirited away into neighboring Pakistan.
On November 21, five of the 12 forces returned home safe and sound. Efforts are underway to secure the release of the remaining hostages.
Iranian forces usually engage in clashes with terrorists in border regions, thwarting their attempts to infiltrate the country.
Tehran says it is ready to cooperate with Islamabad to disband terror cells operating on the Pakistani soil.
In his speech at the second conference of regional parliamentarians to discuss security cooperation on Saturday, Larijani complained that the UN Security Council has failed to honor its responsibilities properly.
"Regional wars in Iraq, Afghanistan, Libya and different countries show that this body (the UN Security Council) is not carrying out its tasks," he said.
Larijani also warned of "very dangerous" consequences of Washington's unilateralism, saying, "The behaviors of [US President Donald] Trump have crushed the human rights systems and led to disappointment among countries."
"Countries like the US and its allies in the region have caused the spread of terrorism," Iran's Parliament speaker said, adding that those states claim to be fighting against terrorism, but are practically "using the tool of terrorism."
He further described the cooperation of Iran, Russian and Turkey in resolving the Syria crisis as a "successful" model for restoring regional peace.