Iran
Iran Parliament approves JCPOA motion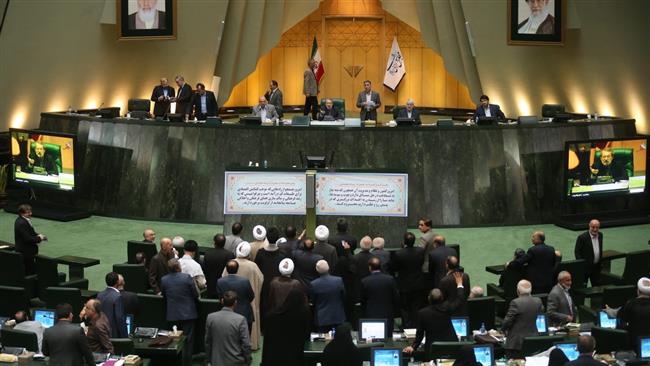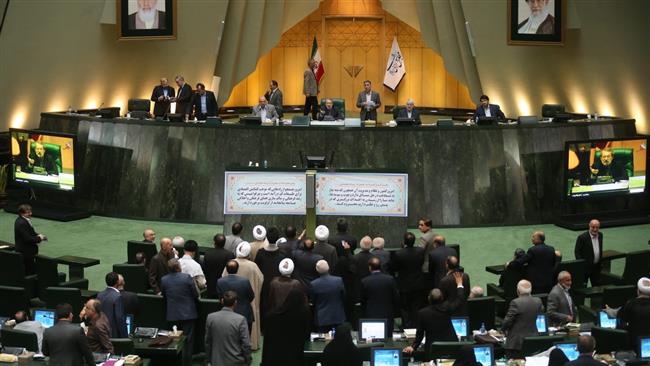 The Iranian Parliament (Majlis) votes to approve a motion to implement the Joint Comprehensive Plan of Action (JCPOA), the agreement previously reached between Iran and the P5+1.
The Parliament on Tuesday voted to approve the details of the single-urgency motion, which allows the administration to voluntarily implement its July 14 nuclear agreement with the P5+1 group of countries under certain conditions.
The motion secured 161 yes votes, 59 no votes, and 13 abstentions. A total of 250 lawmakers were present at the legislature at the time of the voting.
The outlines of the motion had been approved in the Iranian Parliament on Monday.
The motion's provisions set out certain obligations that the administration has to observe in its implementation of the JCPOA.
Article 1 of the motion forbids either the production or application of nuclear arms by the government based on a fatwa issued by Leader of the Islamic Revolution Ayatollah Seyyed Ali Khamenei and obliges the administration to participate in international and regional efforts aimed at countering the threat of such weapons.
On a proposal forwarded by legislator Hossein Sobhani-Nia, the government's contribution to regional anti-nuclear arms efforts also enshrined its participation in efforts aimed at disarming the Israeli regime of its nuclear weaponry.
The remaining articles laid emphasis on, among other things, cooperation and mutual respect between the two sides of the agreement, the government's mindfulness of the other party's potential failure in removing the sanctions or its reversing them, and the prevention of access by the International Atomic Energy Agency (IAEA) to military sites unless allowed by Iran's Supreme National Security Council (SNSC).
In mid-July, Iran and the five permanent members of the UN Security Council – the United States, Britain, France, China and Russia – plus Germany (together known as the P5+1) finalized the text of an agreement dubbed the Joint Comprehensive Plan of Action (JCPOA) in the Austrian capital of Vienna.
Under the JCPOA, limits will be put on Iran's nuclear activities in exchange for, among other things, the lifting of all economic and financial bans against the Islamic Republic.
'No guarantee for US commitment'
Speaking on the development at Iran's parliament, Dr. Randy Short, a political commentator, told Press TV's website on Tuesday that there is no guarantee that the US will honor its commitments under the JCPOA.
"There's no real assurance on the American side that they will honor this agreement.
"Inasmuch as America cannot honor its own constitution, why would I… believe that they would keep their treaties? We've watched them violate it with Vietnam."
Iranian officials, however, have already said that, in case of a violation of the agreement by the P5+1 members, the Islamic Republic reserves the right to return its peaceful nuclear activities to the scale that existed before the JCPOA was reached.