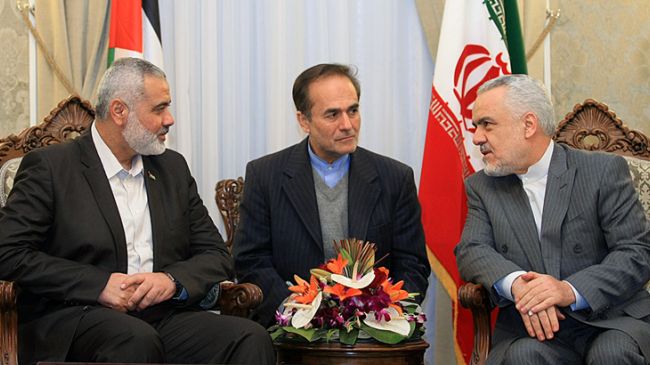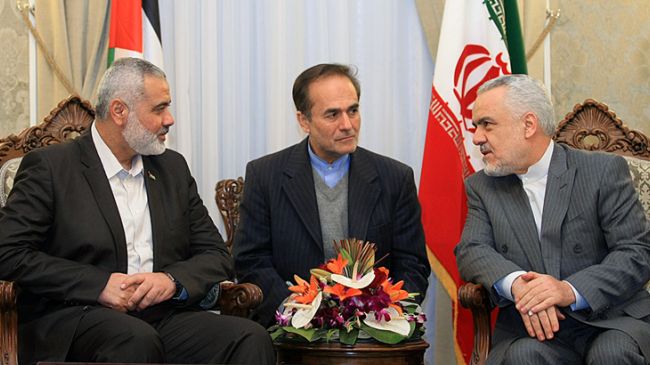 Iran's First Vice President Mohammad Reza Rahimi pledges the Islamic Republic will continue to back Palestinian resistance against Israel, stressing that Palestinian issue is a "red line" for Tehran.
In a meeting with visiting Hamas Prime Minister Ismail Haniyeh in Tehran on Friday, Rahimi stated that Iran will not retreat "one iota" from its position on defending the rights of the Palestinian nation, and that the Islamic Republic will use everything at its disposal to support the oppressed Palestinians.
He described Iran's support for the Palestinian nation as a "lofty aspiration" that is being pursued since the victory of the 1979 Islamic Revolution, noting that the Iranian nation is committed to this ideal.
Rahimi highlighted that backing oppressed people, especially the Palestinian nation, and denial of the Zionist regime (of Israel) form a dominant ideological principle of the Islamic Republic of Iran.
The senior Iranian official explained Iran's rejection of the Israeli regime and strong belief in the Palestinian cause as the chief reasons behind eight years of Iraq's imposed war against Iran (1980-1988), as well as plots and sanctions on the Islamic Republic.
The Palestinian issue is a red line for us and Iranian nation has explicitly and firmly expressed its stance on the matter, Rahimi pointed out.
"A part of God's punishment happens in this world, and soon the Zionist regime will be punished for its plots and aggression," Iran's first vice president noted.
Rahimi also called for vigilance and alertness among Palestinians, as well as avoiding division and discord in their struggle against Israel.
Haniya, for his part, congratulated the Iranian government and nation on the 33rd anniversary of the triumph of the Islamic Revolution, and expressed gratitude over Tehran's supportive stance on the Palestinian issue.
Iran has stood beside the Palestinian nation since the victory of the 1979 Islamic Revolution and we have witnessed the Iranian nation's strong support for the oppressed Palestinians. The Palestinian resistance is robust and strong now owing to such support from Iran, the senior Palestinian official said.
Haniya noted that Iran and Palestine have forged strong relations, and they both share common views on the campaign against expansion of US and Israeli clout in the Middle East. He also called for strong response to Israeli aggressions against the al-Aqsa Mosque compound in East al-Quds (Jerusalem).
Heading a high- ranking delegation during his two-day visit, Haniyeh will meet The Leader of Islamic Ummah and Oppressed People Imam Seyyed Ali Khamenei, President Mahmoud Ahmadinejad and other senior Iranian officials.