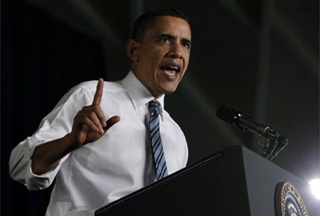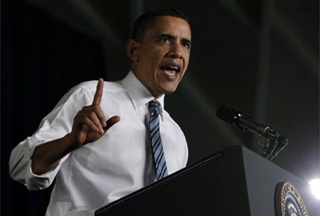 US President Barack Obama said on Wednesday that Iran's policies were against US national interests, adding that Washington will keep existing sanctions against Tehran in force.
In a letter to the Congress of the United States, President Obama informed lawmakers about his decision to make the National Emergency on Iran, which will be expired on March 15, saying that the emergency will continue in effect for one year.
"The actions and policies of the Government of Iran are contrary to the interests of the United States in the region and pose a continuing unusual and extraordinary threat to the national security, foreign policy, and economy of the United States," Xinhua quoted the US president as saying in his letter.
He added that issues between Washington and Tehran which led to the declaration of a national emergency on March 15, 1995 "has not been resolved", stressing that "It is necessary to continue the national emergency declared with respect to Iran and maintain in force comprehensive sanctions against Iran."
The report comes despite Obama's claims that his administration is moving towards a policy change on Iran.
The US has also embarked on a campaign to slap fresh embargos against Iran over its nuclear enrichment program.
Russia and China, two veto-wielding members of the UN Security Council, have voiced their reluctance to back new sanctions against Iran and continue to call for a diplomatic solution to the country's nuclear issue.
Tehran has repeatedly declared that it will not relinquish the legitimate nuclear rights of the Iranian nation under Western pressure.