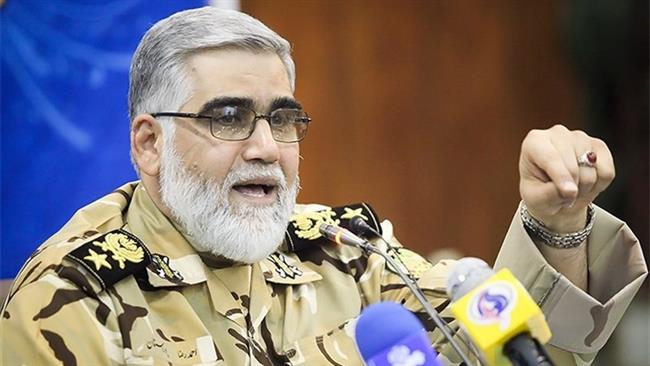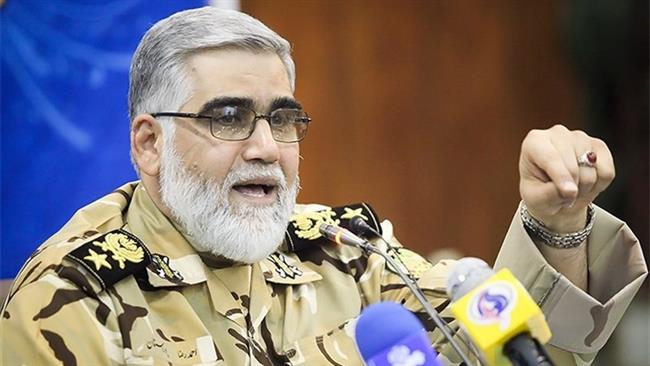 A senior Iranian commander says the Islamic Republic's strategy is to dismantle Daesh and other terrorist groups beyond its borders.
Commander of the Iranian Army's Ground Forces Brigadier General Ahmad Reza Pourdastan said on Sunday that terrorist groups such as Daesh are born of an Islamophobic ideology and destroying them beyond borders is a major strategy for the Islamic Republic.
Noting that terrorist groups are supported by the global arrogance and the US in their efforts to foment sectarian conflicts in the region, the Iranian commander warned that the global arrogance seeks to get Iran involved in this scenario.
Pourdastan emphasized that the Iranian Armed Forces must make their utmost effort to thwart enemy plots.
He stated that the main responsibility for the Iranian Armed Forces is to maintain unity and follow the guidelines of the Leader of the Islamic Revolution Ayatollah Seyyed Ali Khamenei.
"We should also monitor threats in all areas and create defensive capacities in proportion to them," the commander pointed out.
Pourdastan had recently noted that Iran has defined a 40-kilometer perimeter around its borders as a red line, warning that any attempt by terrorists to cross the line will be met with a firm response.
He also warned that terrorism will backfire on the governments supporting it.
In recent years, Iran has made major breakthroughs in its defense sector and attained self-sufficiency in producing important military equipment and systems.
Iran has also conducted major military drills to enhance the defense capabilities of its armed forces and to test modern military tactics and state-of-the-art army equipment.
The Islamic Republic has frequently announced that its military might poses no threat to other countries, stating that its defense doctrine is merely based on deterrence.