Iran
Middle East
North America
Iran President: Downing US Drone by Iran-Made Defense Shield Source of Honor
Iranian President Hassan Rouhani said on Thursday he is honored that an intruding US spy drone was shot down over Iran's territories by a home-made air defense system.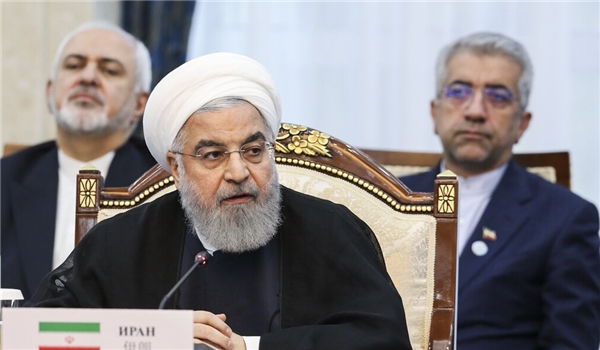 "More important than downing the modern US drone was that it was hit by an Iranian and indigenized defense system and it is a major honor for our country," President Rouhani said, addressing a ceremony in the Northwestern province of East Azarbaijan.
He added that a prominent US military expert clearly said that downing the US drone by Iran was something like a "miracle".
Iran's powerful defense system intercepted an intruder US Navy spy drone, MQ4-C Triton, over Iran's territorial waters on June 20.
The Islamic Revolution Guards Corps (IRGC) shot down a US Navy's Northrop Grumman MQ4-C Triton drone that had entered Iranian airspace in the Gulf of Oman to gather intelligence on June 20, using indigenous Sevvom Khordad surface-to-air missile system.
The United States had confirmed that one of its reconnaissance planes was shot down by Iranian air defenses, but denied that it intruded into Tehran's airspace at the time.
Commander of the IRGC Aerospace Force Brigadier General Amir Ali Hajizadeh said that his forces could have also shot down a US P8 aircraft with 35 on board which was violating Iran's airspace, but decided to shoot down the drone to only send a message to Washington.
"We intended to send a message to American terrorists in the region," Brigadier General Hajizadeh said on June 21, adding that his forces had also traced a military P8 aircraft violating the airspace of Iran.
"Along with the American drone was an American P8 aircraft with 35 on board, and it was also violating our airspace and we could have downed it too," he said, adding, "But we did not do (shoot down) it, because our aim was to warn the terrorist forces of the US."
General Hajizadeh also stressed on June 22 that Iran was not after war but was fully ready to defend itself, adding that the fate of the downed US spy drone was waiting for any intruding flying object.
"Our response to anything trespassing Iranian territory is like this, and if such acts of aggression are repeated, our response will also be the same," General Hajizadeh said.
"We don't embrace war but we are ready to fully defend the country," he said.
"We possess a collection of US drones which is a proof that US has violated Iran's airspace and shows that they don't want to respect the international law," General Hajizadeh said.
"If such an aggression is repeated, we will add other US (military) products to complete this collection," he noted.
"The US measure was in violation of international law and we acted according to our legitimate responsibility," General Hajizadeh said, adding, "It is possible that a US general or some operators were behind this American aggression, we don't know that. But that measure (intruding into Iranian airspace) is a violation of international aviation rules by a spy drone which then received our natural response."
Meantime, IRGC Commander Major General Hossein Salami stressed that the move should alert Washington officials to stay away.
The incident sent "a clear message" to the US and other enemies that Iran will show a firm and crushing response to any aggression, he stated.
"Borders are our red lines and any enemy which violates them will not go back home and will be annihilated. The only way for enemies is to respect Iran's territorial integrity and national interests," the major general noted.