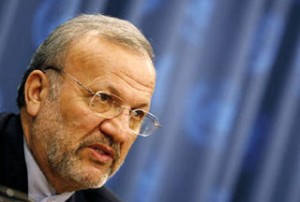 Iran has offered to work with Germany to draw up an "all-encompassing nuclear disarmament treaty" with a clear deadline for total annihilation of atomic weapons.
Iranian Foreign Minister Manouchehr Mottaki first introduced the offer in a Friday meeting with his German counterpart Guido Westerwelle on the sidelines of the Munich Security Conference.
"Other than our two countries, other states can take part in this initiative," said Mottaki, recollecting how various countries had come together to seal the Chemical Weapons Convention (CWC).
Mottaki made the remarks just days after the 'Global Zero' summit in Paris, which brought together some 200 politicians, generals, businessmen, clerics, academics and arms experts in the hope of finding a way to total nuclear disarmament.
Both US President Barack Obama and his Russian counterpart Dmitry Medvedev sent messages of support to the international assembly.
In his message, Obama reaffirmed his campaign promise that "a world without nuclear weapons . . . is one of my highest priorities."
Obama and Medvedev are finalizing a major new treaty to dismantle 2,000 of the 5,000 strategic (long-range) warheads they have in their stockpiles.
However, Obama and Medvedev together control 95 per cent of the world's 23,000 nukes.