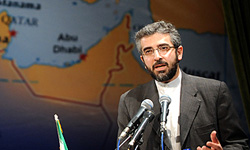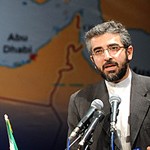 The Iranian team of negotiators presented Tehran's detailed response to the proposal offered by the six world powers in the last round of talks in Baghdad last month, Iran's deputy chief negotiator Ali Baqeri said after a second meeting with the representatives of the world powers in Moscow on Thursday.
"In the afternoon session, we presented a comprehensive answer to the G5+1's Baghdad proposal based on reasoning and realities and in a legal and technical manner," Baqeri, who is also Iran's Supreme National Security Council (SNSC) Undersecretary, told reporters after the second round of talks at Moscow's Golden Ring Hotel minutes ago.
He added that during the afternoon session, Iran intensively proved that "based on the statute of the International Atomic Energy Agency (IAEA) and the UN Charter, the reference of its nuclear dossier to the UN Security Council from the IAEA has been illegal".
Baqeri added that the Iranian negotiators also emphasized the illegality of the existing sanctions and resolutions against Iran.
According to the Iranian negotiator, the talks between Iran and the Group 5+1 (the five permanent UN Security Council members plus Germany) will be continued at 12:00 hours local time tomorrow.
Iran's chief negotiator and SNSC Secretary Saeed Jalili is leading the Iranian team of negotiators, while delegations of the six world powers are headed by EU foreign policy Chief Catherine Ashton.
Iran and the Group 5+1 held several rounds of talks in Baghdad last month. The Baghdad meeting came after Iran and the six world powers resumed talks in Istanbul, Turkey, in April.
Both Tehran and the so-called Group 5+1 – comprising UN Security Council permanent members Britain, China, France, Russia and the United States, plus Germany -offered their own packages of proposals at the last round of talks in Baghdad in May.
Iran's package included nuclear and non-nuclear topics such as regional security and the demand that the G5+1 officially recognizes Iran's right to uranium enrichment.
The powers want Tehran to stop enriching uranium to 20 percent fissile purity used to fuel a research reactor in Tehran which produces radioisotopes for medical purposes like cancer treatment.
They put forth a proposal on how to achieve this at a round of talks in Baghdad, in which Tehran would stop production, close the Fordow underground facility where such work is done, and ship its stockpile out of the country.
In return, they offered to supply it with fuel for a medical research reactor in Tehran, which requires 20-percent uranium, and to ease sanctions against the sale of commercial aircraft parts to Iran.
No agreement was reached in Baghdad but the seven countries agreed to continue discussions in Moscow.
Iranian officials have repeatedly reiterated that the country's right to enrich uranium to the level of 20% is Tehran's redline and the world powers should recognize this right in the Moscow negotiations.