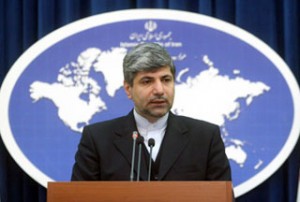 Iran's Foreign Ministry spokesman says the French government should worry about its own human rights record before intruding upon Tehran's internal affairs.
In a statement published on Wednesday, Ramin Mehmanparast criticized what he described as "interfering remarks by French authorities," saying that they are completely out of line.
"French authorities feel the right to interfere in Iran's internal affairs at a time when violations of human rights in France continue," said Mehmanparast.
"Muslim minorities in France are being constantly stripped of their basic rights," he added, referring to a controversial bill that will ban Muslim women from wearing full-face veils known as burqa, in public places.
Despite warnings about the bill being against the constitution, French ministers are set to present it for consideration in May.
President Nicolas Sarkozy threw his weight behind the bill on Wednesday, saying the burqa "hurts the dignity of women and is not acceptable in French society," government spokesman Luc Chatel told Reuters.
France is home to the largest Muslim population among the 27 European Union member states. Nearly 10 percent of the 62 million French population is Muslim.