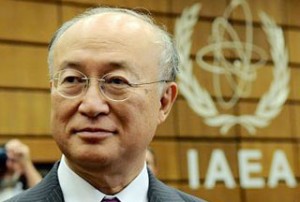 Iran's envoy to the UN nuclear watchdog questions the independence of the 35-member body as world powers push for a new set of sanctions against the country.
Ali-Asghar Soltanieh told Al-Alam late Saturday that "Washington and some of its allies are working to undermine the independence of the International Atomic Energy Agency (IAEA)" in its dealing with Iran's enrichment activities.
"They lay down the law in New York and expect [the UN nuclear agency in] Vienna to stick to the rules," he said.
Soltanieh, who is slated to attend the NPT Review Conference in New York in May, rejected what he described as "baseless allegations of a hidden Iranian nuclear weapons program."
"Why would we keep our intentions secret when our nuclear activities are being constantly monitored by IAEA surveillance cameras?" asked Soltanieh.
"We have always worked in line with our commitments under the Nuclear Non-Proliferation Treaty (NPT)," he added.
Soltanieh made the comments at a time when Western superpowers are preparing a new round of UN sanctions against Iran over its refusal to abandon uranium enrichment.
Western powers accuse Iran of having the intent to develop nuclear weapons in defiance of its international obligations.
Iran has rejected the allegations, saying that the non-diversion of its nuclear program has been verified by IAEA inspectors.