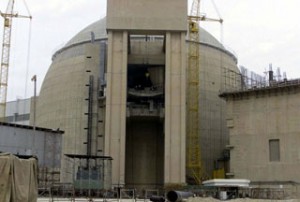 A top Iranian official has questioned Russia's credibility for the completion of the Bushehr nuclear plant, saying the existing conditions have left Iran with no choice but to allow Russians to develop the plant.
"The problems regarding the Bushehr plant has a technical as well as a political aspect. The Russians… want to launch the plant under certain conditions, but we will not surrender to them," Iran's deputy foreign minister Manouchehr Mohammadi said in a Monday speech at an Iranian university.
The Bushehr plant was originally scheduled to be completed in 1999 but its completion has repeatedly been delayed. Russia has recently announced the nuclear plant would not become operational, as promised, by the end of 2009.
Iran was left with no choice but to sign a deal with Russia to develop the Bushehr plant as Western countries had pulled out of the project, Mohammadi said.
After the originally German-built reactor was left unfinished by Berlin following the 1979 Islamic Revolution in Iran, Russia was granted the contract to complete the nuclear power plant in Bushehr in 1995.
However, hindrance on the part of the Russian contractor, Atomstroiexport, has so far prevented the launch of Iran's first nuclear power plant.
Russia has cited 'technical' issues as the reason for the delays, ruling out that the decision is politically-motivated.
On Iran-US relations, Mohammadi said the issue can be considered from three aspects, namely negotiations, diplomatic relations and the resolution of differences.
However, the US has not taken practical steps in any of these aspects after the Islamic Revolution, he said.
Mohammadi said the Israeli lobby was acting against Washington's own interests by preventing the US from resuming relations with Iran.
"Despite [US President Barack] Obama's change in tone, there is still a double standard in the US policy towards Iran which has led to Washington's failure in this regard."
Obama has repeatedly talked of a change in US policy toward Iran since he came to office in January.
However, Tehran says Washington has taken no practical steps to resume diplomatic relations with Iran.
The Obama administration continues to pressure American firms as well as foreign countries to stop investing in Iran's energy sector in a bid to bring Iran's nuclear program to a halt.
Meanwhile, Iranian assets in the US remain blocked and Obama has extended the unilateral US sanctions against Iran for another year.