Africa
Human Rights
World News
Iran raps zionist puppet Nigeria's fatal crackdown on peaceful pro-Zakzaky rally, urges cleric's release
Iran has condemned Nigeria's deadly crackdown on supporters of senior Muslim figure Sheikh Ibrahim Zakzaky, who has been jailed for over four years, renewing the call for the cleric's release and his "immediate" access to medical services.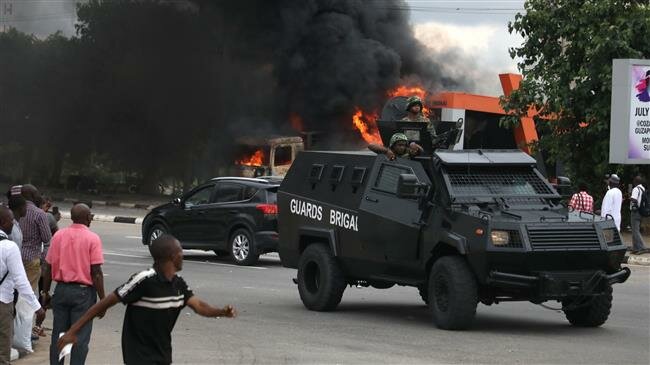 Speaking on Tuesday, Iran's Foreign Ministry spokesman Abbas Mousavi expressed grave concerns about Monday's deadly clashes between Nigerian forces and supporters of Zakzaky in the capital, Abuja.
He also censured the use of force during the demonstration, which left six people dead.
Mousavi further referred to the deteriorating health condition of Sheikh Zakzaky, who has been imprisoned since 2015, and a medical report saying that the clergyman and his wife are in urgent need of medical care abroad.
"The Nigerian officials are expected to transfer Zakzaky out of the detention center as soon as possible and take action for his access to decent and immediate medical services," he said.
The Iranian spokesman also underlined the importance of preserving security and stability in Nigeria and resolving problems through dialog in the African country.
Witnesses said Monday's protest started peacefully with participants chanting "Free Zakzaky, but the demonstration turned violent after police fired live ammunition and tear gas canisters at protesters.
6 dead as Nigerian police crack down on pro-Zakzaky rallyNigerian security forces have killed at least six protesters demanding the immediate release of the country's senior Muslim figure Sheikh Ibrahim al-Zakzaky.
Sheikh Zakzaky, who is in his mid-sixties, lost his left eyesight in a 2015 raid by security forces, that left more than 300 of his followers and three of his sons dead. His wife also sustained serious wounds.
He has been kept in custody along with his wife and a large number of his followers ever since.
Back in 2016, Nigeria's federal high court ordered his unconditional release from jail following a trial, but the government has so far refused to set him free.