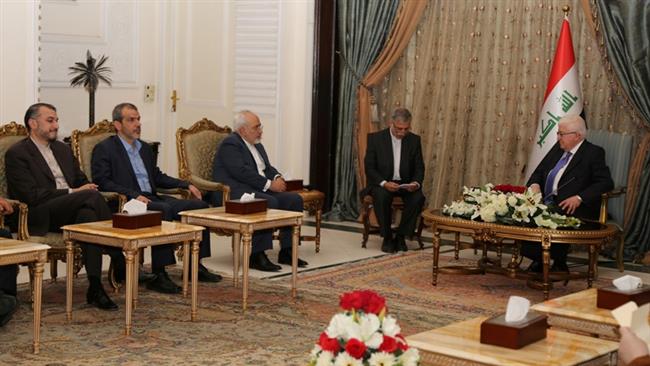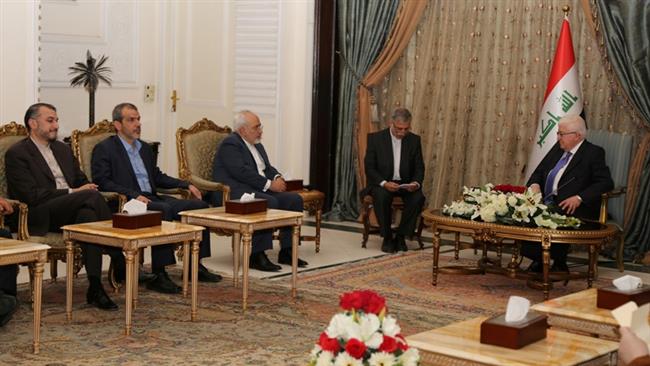 Iran's Foreign Minister Mohammad Javad Zarif says the Islamic Republic and regional countries can initiate dialog to address disagreements and clear up misconceptions.
In a Monday meeting with Iraqi President Fouad Massoum in Baghdad, Zarif referred to the recent conclusion of nuclear negotiations between Iran and the P5+1 and said the agreement reached at the end of the talks was made possible as a result of a fresh perspective by the Islamic Republic.
"This new outlook can also be drawn upon to settle regional woes as well," Zarif said.
"That's why I chose regional and neighboring countries for my first trip following [the conclusion of] the [nuclear] agreement; and my message is that we and regional countries can be the harbingers of dialog and cooperation to eliminate misunderstandings," the Iranian foreign minister said.
On July 14, Iran and the P5+1 group – the United States, Britain, France, China and Russia plus Germany – finalized the text of an agreement, dubbed the Joint Comprehensive Plan of Action (JCPOA), in the Austrian capital of Vienna.
Under the JCPOA, limits are put on Iran's nuclear activities in exchange for a set of commitments by the P5+1, including the removal of all economic and financial bans against the Islamic Republic.
In the Monday meeting, the Iraqi president, for his part, congratulated Zarif on the agreement and said it "will create stability and peace in the region and will be beneficial not only to Iran, but also to all regional states."
Several countries in the Middle East are grappling with crises. Iraq faces terrorist activities by the Takfiri ISIL terrorist group, which has overrun swathes of Iraqi territory, and is engaged in crimes against humanity in the areas under its control.
Syria, too, is fighting a foreign-backed militancy, as well as a similar offensive by ISIL.
Active diplomacy
The Iranian foreign minister launched a tour of regional countries on Sunday. He arrived in Kuwait on the first leg of his three-nation tour.
During his stay in Kuwait City, Zarif met with Kuwaiti Emir Sheikh Sabah Al-Ahmad Al-Sabah and Foreign Minister Sabah Khaled Al-Hamad Al-Sabah.
He also paid a short visit to the Qatari capital, Doha, later on Sunday and held discussions with Qatari Emir Sheikh Tamim bin Hamad Al Thani and Foreign Minister Khalid bin Mohammad al-Attiyah about the expansion of mutual relations between Iran and Qatar.
Late on Sunday, Zarif arrived in Iraq on the final leg of his regional tour.
In Iraq, Iran's diplomacy chief met with senior religious figures and political officials, including Grand Ayatollah Ali al-Sistani, Iraqi Prime Minister Haider al-Abadi, and Foreign Minister Ibrahim al-Jaafari.