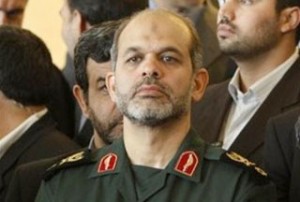 Iranian Defense Minister Ahmad Vahidi has rejected reports that Iran is planning to build ballistic missiles capable of striking the US within five years.
"We have no such plans for now," Vahidi told reporters on Wednesday, adding that such comments were likely to be part of Washington's "psychological warfare" campaign against Iran.
Vahidi's remarks came in response to a US defense department report claiming that with "foreign assistance" Iran could develop intercontinental missiles capable of striking the United States.
James Miller, the principal deputy undersecretary of defense for policy, said at a Senate hearing on Tuesday that current estimates indicate "that it could potentially be as soon as 2015."
To advance its defensive capabilities against any possible attack, Iran has so far produced and launched different kinds of missiles.
While the US and Western countries have reacted with suspicion to Iran's development of new deterrent missiles, Tehran has made it clear that its missile capabilities only serve defensive purposes against a possible attack.