Syria
Iran rejects condition for Syria talks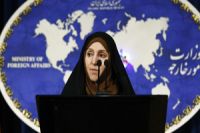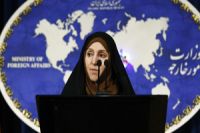 Iran Foreign Ministry Spokeswoman Marzieh Afkham has slammed the US move to set condition for Iran's participation in the upcoming Geneva II conference on the Syria crisis.
Afkham said on Tuesday, "If our participation is in the interest of achieving a solution, it will be unacceptable to set conditions for inviting the Islamic Republic of Iran, and we accept no conditions".
She added, "The Islamic Republic of Iran has always considered achievement of political understanding on the basis of dialogue and agreement among the Syrian parties as the sole solution for the catastrophic crisis in Syria, and is prepared to facilitate the process".
Afkham warned that exclusion of Iran from the political process in Syria will "deprive the negotiations of Tehran's constructive role."
On Monday, US State Department Deputy Spokeswoman Marie Harf said the US would agree to Iran's participation in Geneva II talks if Tehran approved the Geneva Communiqué.
The Geneva Communiqué, approved in 2012, is aimed at providing an outline for ending the crisis in Syria.