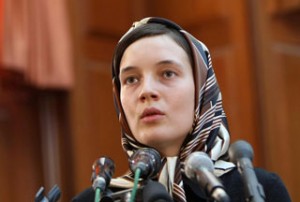 Tehran has rejected claims by Paris that it offered to exchange a French scholar, Clotilde Reiss, who is on trial in Iran, with an Iranian prisoner held in France.
Iran's Foreign Ministry spokesman, Ramin Mehman-Parast, criticized remarks by French Foreign Minister Bernard Kouchner that Iran offered to exchange Reiss with the Iranian prisoner.
Reiss was arrested on charges of taking part in a Western plot against the Islamic Republic.
She is also accused of carrying out "a series of offenses, such as illegal residence, participation in illegal protests and intelligence gathering for the French Embassy," according to Iran's Foreign Ministry.
In August, she was granted bail and currently resides at the French Embassy in Tehran awaiting her final verdict.
France has asked for guarantees that the teaching assistant will be released. The call, however, has been dismissed by Tehran based on the seriousness of the charges.
Mehman-Parast said the rights of Iranian and foreign nationals should not be dealt with in an undiplomatic way.