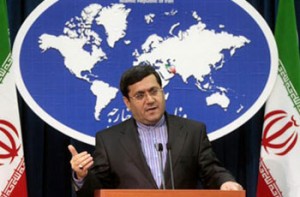 After French President Nicolas Sarkozy accused Iran of hiding a nuclear weapons program, the Iranian Foreign Ministry spokesman moves to condemn the comment saying such remarks rise from 'extremism' and 'hostility'.
Only days ahead of talks between major world powers and Iran, which is due to address concerns about the country's nuclear work, the French president raised new allegations about Iran's long-wrangled-over nuclear program.
"It is a certainty to all of our secret services. Iran is working today on a nuclear (weapons) program," Sarkozy told lawmakers from his conservative UMP party on Tuesday.
Iran's Foreign Ministry spokesman Hassan Qashqavi dismissed the claim on Wednesday, saying it was in direct contradiction with the latest report by the International Atomic Energy Agency (IAEA) about the country's nuclear activities.
In his latest report on the Iranian program, the IAEA Director-General Mohamed ElBaradei confirmed that the country is expanding its cooperation with the agency.
The report also said that the agency had been able to continue "to verify the non-diversion of declared nuclear material in Iran" but warned that Tehran "has not suspended its enrichment-related activities" as required by the UN Security Council.
Iran faces pressure to halt its nuclear enrichment, as world powers claim its program is aimed at building a nuclear bomb.
Tehran, however, has denied seeking nuclear weapons and called for the removal of all weapons of mass destruction from across the globe.
Meanwhile, the Iranian spokesman went on to describe the comment by President Sarkozy as "politically motivated", adding that it was a reiteration of the "hostile and illogical views of other political figures in France."
"Such approaches bring to mind the extremist and radical mindset of former allies [of France] like Mr. [George W.] Bush and lack credibility," Qashqavi said.
The Iranian Foreign Ministry official went further and linked the French president's comment to the Israeli lobby in France.