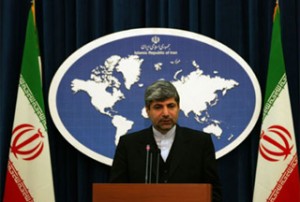 Iranian Foreign Ministry Spokesman Ramin Mehmanparast rejects any interference by the Islamic Republic in the Iraqi elections.
"The coalition of Iraqi parties and political movements to form the Iraqi government is an internal affair and Iran stays away from any interference in it," told reporters on Wednesday.
"Iran has always supported the Iraqi political process which is based on democracy," he added. "The Islamic Republic will also continue supporting the Iraqi political process in future."
The Iranian spokesman further praised the high voter turnout in Iraq's parliamentary election.
"The high [voter] turnout in Iraq's parliamentary election showed the national unity of Iraqis."
Mehmanparast expressed Tehran's readiness to host all Iraqi political movements to show Iranian support for the Iraqi political process and help the country form its new government as soon as possible.
Mehmanparast stressed that the Islamic Republic respects the sovereignty of all countries in the world, especially its neighbors.
More than 6,200 candidates from six major coalitions and several other tribal and ethnic minority groups ran for the Iraqi parliamentary seats on March 7.
Preliminary results showed former Prime Minister Iyad Allawi's al-Iraqiya bloc won the parliamentary election with two more seats than incumbent Prime Minister Nouri al-Maliki's State of Law Alliance.
It could take up to two weeks for Iraq's Supreme Court to certify the results, as parties can still submit complaints to the election commission.