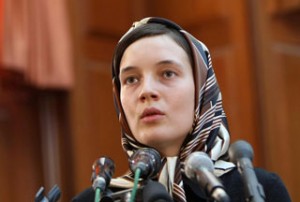 Iran has released on bail a female French lecturer who was detained on charges of espionage in the course of the country's post-election unrest.
The French presidency announced in a statement on Sunday that Clotilde Reiss, 24, was released from the Evin prison in Tehran on Sunday.
According to the statement, Reiss was 'in good health and good spirits' and would stay in the French embassy in Tehran pending the verdict in her case.
Reiss, who was working in Iran as a lecturer in the Isfahan Technical University, was detained on July 1 and later stood trial on charges of espionage.
During her court address on August 8, she said that she had taken part in 'illegal protests' and had written to the French embassy and about 50 friends or members of her family about the country's post-election developments.
The statement then demanded that Iran put an end to judicial procedures of the French citizen as well as a local Embassy staff, Nazak Afshar, who was conditionally released last Tuesday. Any charges of espionage have been rejected outright by France.
"The French authorities now demand that the judicial procedures leveled against Clotilde Reiss and Mrs Nazak Afshar — which nothing can justify — be ended as soon as possible."
Afshar also stood trial last Saturday, during which she confessed that she had taken part in post-election demonstrations, sent emails containing information on the protests, and let protesters into the French embassy based on orders given by her employers.
Iranian authorities have not yet commented on the release-on-bail of the French academic.