Iran
Middle East
Iran, Russia navies to stage joint drill in Persian Gulf
Iranian and Russian military forces will stage a rare naval drill in the Persian Gulf later this year, the commander of Iran's Navy has announced.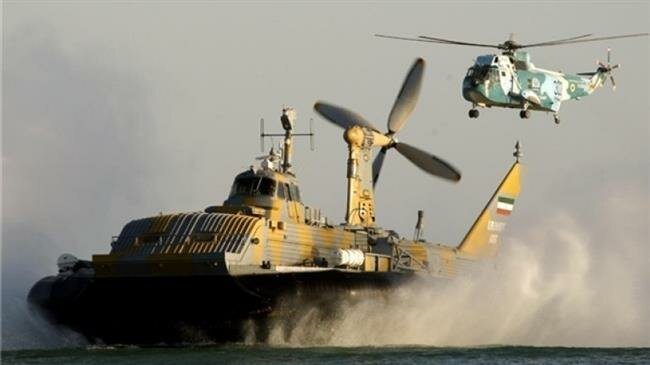 Rear-Admiral Hossein Khanzadi made the announcement during a press conference on Monday upon return to Tehran from a high-profile visit to China, where he met with his counterparts from other countries.
"Our negotiations with Russia revolved mostly around technical and operational topics and we plan to hold a joint naval exercise" this year, he said.
While Iranian and Russian naval forces have in the past trained together in the Caspian Sea, the upcoming Persian Gulf drill is expected to take bilateral cooperation to a new level.
The announcement comes at a time when Iran has threatened to close the Hormuz Strait, a strategic chokepoint through which a large chunk of world's oil transits every day, in response to threats by the United States to zero out Tehran's crude exports.
The Persian Gulf has also become the center of another showdown between Iranian and American forces following US President Donald Trump's recent move to designate Iran's Islamic Revolution Guards Corps (IRGC) a terrorist organization.
Iran has in response designated the US Central Command (CENTCOM), which oversees all US forces' operations in the region, terrorist and vowed to confront those forces in case of any trespassing on its territorial waters in the Persian Gulf.
In January, Admiral Khanzadi said upon announcing joint drills in the Caspian Sea that military-to-military work with Russia "will surely take us to a new level of cooperation in strategic, tactical, and operational areas at sea."
Iran, Russia to hold joint military drill in Caspian SeaIran and Russia will hold joint drills in the Caspian Sea, an Iranian commander says as he underlines opposition to outside military presence in the waters.
The Iranian Navy has celebrated significant advances over the past years and expanded its global operating range.
Admiral Khanzadi announced that the force would soon receive the Damavand destroyer, which he said is currently being equipped with the latest domestic technologies for naval combat.
Iran, China sign military cooperation agreement
The Iranian commander also announced that he had signed an extensive cooperation agreement with Chinese authorities during the trip.
"Expanding technical and training capacities will be some of the issues we have on agenda for our interactions with the Chinese Navy," he added.
Khanzadi noted that besides China, Iran has received invitations from India, Pakistan and even Italy for joint training projects.
"Currently, our officers are being trained in some of these countries and some of them have sent officers to Iran to receive training," he said.
Iran to defend oil tankers against Israel
Asked about Israeli Prime Minister Benajmin Netanyahu's recent remarks about the possibility of using military action to hinder Iranian oil exports, Khanzadi said the armed forces were ready to protect Iran's tanker fleet.
"The Islamic Republic's tankers are part of our country's territory and we will surely protect them," he asserted.