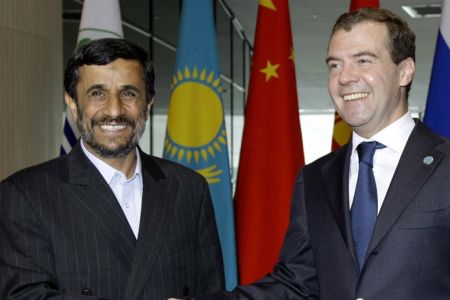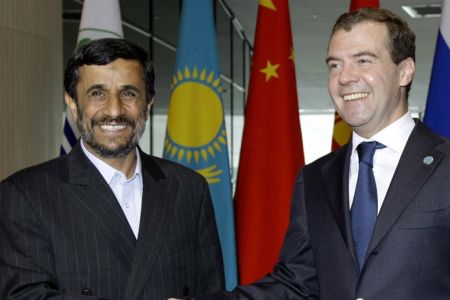 Iran's President Mahmoud Ahmadinejad says Tehran and Moscow should stand beside one another as two neighbors who share common interests.
"Neighborly curtsey requires Iran and Russia stand beside each other based on common and mutual interests and this is in favor of both countries and the region," Ahmadinejad said in a meeting with Russian President Dmitry Medvedev on the sidelines of the Caspian Sea summit on Thursday.
Referring to the ineffectiveness of sanctions against Iran, Ahmadinejad said, "The era of bullying and sanctions is over."
The Iranian president added that it is interesting to see some European countries have stepped up their efforts to increase investment in Iran after the adoption of the resolution.
Ahmadinejad pointed to the rapidly changing global situation and said, "The Iranian nation is against the inhumane measures taken by Western powers against all the nations in the world."
"[We] believe that in the current global conditions, if Iran and Russia stand together, the enemies will fail in their plots against Iran, Russia and the region."
The Iranian president expressed his agreement with the proposal of his Russian counterpart for formulating and adopting common strategic stances in the international community.
Medvedev reiterated Ahmadinejad remarks about common stances and said, "Russia seeks to improve its political, economic and even military ties with Iran."
"Following the [adoption of the] sanctions resolution, a group sought to intensify sanctions against Iran, to which Russia strongly opposed and took stances against it," Medvedev said.
The Iranian president arrived in the Azeri capital, Baku, on Wednesday to attend the third meeting of the leaders of Caspian littoral states in order to negotiate the legal regime of the sea and to discuss relations with Azeri officials.
The maritime and seabed boundaries of the Caspian Sea have yet to be demarcated among Azerbaijan, Iran, Kazakhstan, Russia and Turkmenistan — the five countries bordering the sea.
Despite extensive negotiations, the legal status of the Caspian Sea has been unclear since the breakup of the Soviet Union in 1991.
The Caspian Sea legal regime is based on two agreements signed between Iran and the Soviet Union in 1921 and 1940.
Azerbaijan, Kazakhstan and Turkmenistan — the three new littoral states, established after the collapse of Soviet Russia — do not recognize the prior treaties, triggering a debate on the future status of the sea.