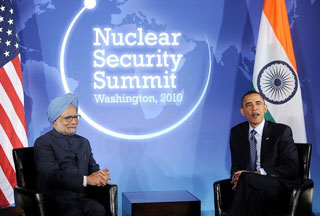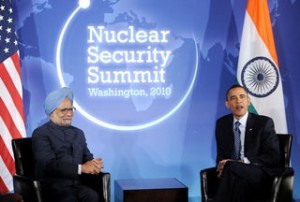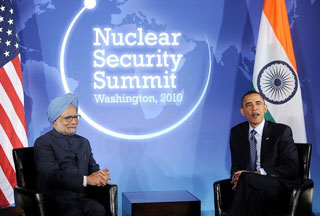 As the US seeks to forge an international consensus at the UN Security Council on new punitive sanctions against Iran, India expresses opposition to the move.
Indian Prime Minister Manmohan Singh made clear on Sunday that New Delhi was opposed to imposing fresh sanctions on Iran to force the Islamic Republic into freezing uranium enrichment and said plans that target ordinary people are counterproductive.
On Sunday, US president Barack Obama briefed Singh about White House efforts to rally international support for a fourth round of United Nations Security Council (UNSC) sanctions against Iran.
"Our stand on the Iran issue is well-known. President Obama did discuss [the] Iran issue with [the Indian] prime minister. The premier said that sanctions, when they target common people are unproductive. And we have agreed to keep in touch over the issue," Foreign Secretary Nirupama Rao said.
Meanwhile, India called on Iran, as a signatory to the Nuclear Non-Proliferation Treaty (NPT), to comply with its obligations and work with the International Atomic Energy Agency (IAEA) to prove wrong Western claims that it seeks nuclear weapons.
India has always maintained that the dispute over Iran's nuclear program should be resolved through diplomacy and that the case should be addressed at the IAEA rather than the UNSC, the official said.
The West accuses Iran of having intent to develop nuclear weapons. This is while the UN nuclear watchdog, which has conducted the largest amount of inspection on Iran's nuclear program in its history, has not found evidenciary support for the claim.
Tehran maintains that its nuclear program is aimed at the civilian applications of the technology.