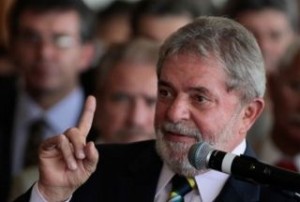 A US official has suggested that next week's nuclear talks between Iranian and Brazilian officials could prevent the imposition of tougher UN sanctions against Tehran.
Brazilian President Luiz Inacio Lula da Silva is slated to visit the country to work closely with Iran on a potential nuclear fuel swap deal.
"I think we would view the Lula visit as perhaps the last big shot at engagement, (before the sanctions)," a senior State Department official speaking on condition of anonymity told reporters on Thursday.
The official went on to stress that while the US has not given up on engagement, Washington is not optimistic about the negotiations bearing fruit.
The US recently accused Iran of seeking to "buy time" through reviving the nuclear fuel swap proposal.
Amid a fierce US drive for slapping a fourth round of UN Security Council sanctions on Iran over its nuclear program, non-permanent UNSC members Brazil an Turkey have been pushing for a diplomatic end to the standoff.
Iran has repeatedly defended its right to a civilian nuclear program as a member of the International Atomic Energy Agency (IAEA) and a signatory to the Nuclear Non-Proliferation Treaty (NPT) — rejecting Western accusations that it is covertly seeking to develop nuclear weapons.