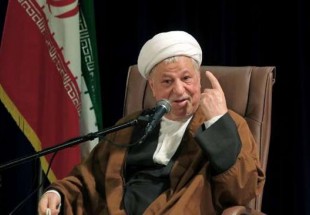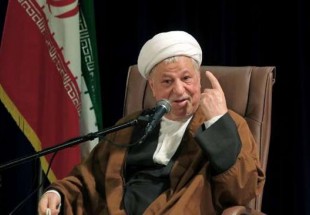 "Differences between these two countries, whose cooperation can improve the standing of  Muslim world in international circles, have weakened Muslims [and that] will finally serve Zionists and enemies of Islam," Ayatollah Rafsanjani said on Tuesday.
He added that division in the Muslim world will bring peace of mind to the Israeli regime.
Pointing to recent accusations leveled against Iran and the Lebanese resistance movement, Hezbollah, during the 13th summit of the Organization of Islamic Cooperation (OIC) in the Turkish city of Istanbul, the influential Iranian cleric said the event was supposed to heal Muslims' rift and reinforce unity among them.
In its final statement on April 15, the OIC said accused Iran of supporting terrorism and interfering in the affairs of regional states, including Syria and Yemen.
A day before the communiqué, Iranian President Hassan Rouhani said no message which would fuel division in Muslim world should come out of the OIC summit.
Rouhani's remarks came amid Saudi Arabia's efforts to include statements against Iran and Hezbollah in the draft declaration of the OIC summit which was prepared during an expert-level meeting of the organization in February in the Saudi port city of Jeddah. The Iranian officials could not attend the meeting as they were denied visas by Riyadh.
Tehran and Riyadh are divided on some regional issues. The tensions between the two sides hit a new high after the execution of prominent Shia cleric Sheikh Nimr al-Nimr. Saudi Arabia severed diplomatic relations with Iran on January 3 following demonstrations held in front of the Saudi embassy in Tehran and its consulate in the northeastern city of Mashhad by angry protesters censuring the Al Saud family for Nimr's execution the day before. The Saudi premises were raided  during the protests. The attacks were strongly condemned by Iranian officials and several were arrested.
Rafsanjani further deplored declaring Lebanese resistance movement Hezbollah as a terrorist organization, saying it was a premeditated plan to strengthen Israel.
"By equipping the Zionists with more sophisticated arms, they seek to harm ties between Iranian and Lebanese Shias to implement their devilish plans more easily," he said.
At a meeting of the Arab League's foreign ministers in Cairo on March 11, the group declared Hezbollah a terrorist organization. The measure was approved by a majority of the Arab League ministers except those from Lebanon and Iraq.
The decision came after the [Persian] Gulf Cooperation Council officially added Hezbollah to its so-called list of "terrorist" organizations on March 2. The GCC comprises Saudi Arabia, Qatar, the United Arab Emirates, Oman, Bahrain and Kuwait.
The move by the six-nation Arab bloc came days after Riyadh halted USD 4bn in aid to Lebanese security forces.