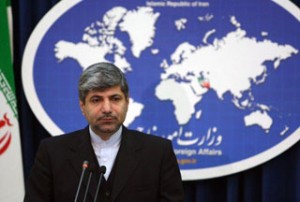 Iran has condemned the assassination of a senior Hamas commander, calling it an indication of Israel's organized state terrorism.
Mahmoud al-Mabhouh was assassinated in Dubai on January 20. Hamas officials say they have concrete evidence that the Israeli intelligence agency, Mossad, staged the assassination.
Iran's Foreign Ministry Spokesman Ramin Mehman-Parast on Tuesday also implicated Israel in the murder of Mahmoud al-Mabhouh.
The assassination, he said, "is another sign of the existence of the Zionist regime's state terrorism and an indication of this regime's violation of the sovereignty of other countries."
Mehman-Parast expressed "surprise" over the global community's silence on the assassination and urged Islamic countries to remain vigilant in the face of "Israeli threat."
Elsewhere, he dismissed a report that an arms shipment seized in Thailand was destined for Tehran, saying the report was part of the ongoing psychological warfare against Iran.
Mehman-Parast also said Tehran had close and strategic ties with regional countries, adding that any attempt to spread "Iranophobia in the region will fail."