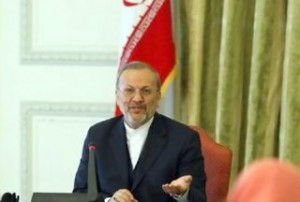 Iranian Foreign Minister Manouchehr Mottaki has said Tehran's offer for a nuclear fuel swap deal is still on the table if the West is willing to accept equal conditions.
"We need 100 kilos [of 20 percent enriched uranium] and we currently have the equivalent of that amount in 3.5 percent processed fuel. That is what we can negotiate on," Mottaki said in a live televised interview on Wednesday night.
"We can wait and reach a consensus as they process fuel up to 20 percent. Our 3.5 percent uranium is available and this exchange can be carried out with the supervision of the [International Atomic Energy] Agency," he added.
While the US and its allies allege that Iran intends to develop nuclear weapons under the guise of its civilian program, UN nuclear watchdog inspectors have not found any evidence to support such an allegation.
The two sides of the dispute came close to ending the standoff in October 2009, when representatives from the Agency, Iran and three of the six powers gathered in Vienna to discuss a nuclear fuel deal.
The US-proposed UN-backed deal required Iran to send most of its low-enriched uranium abroad for further processing and conversion into fuel rods for the Tehran research reactor.
Iran agreed to the IAEA-backed proposal but said it needed guarantees that the other side would deliver the fuel in a timely manner — a demand the West has so far ignored.