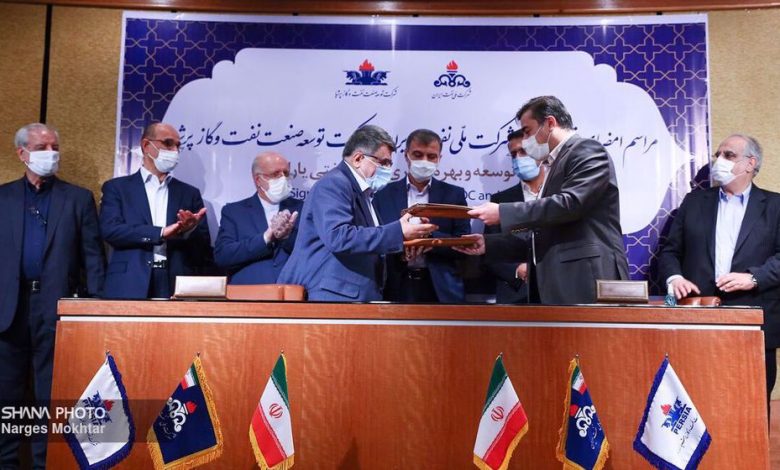 Minister of Petroleum Bijan Zangeneh has expressed Iran's resolve to develop its oil industry despite US sanctions, overseeing the signing of a deal to domestically develop the Yaran oilfield in southwestern Khuzestan Province.
Speaking on Saturday, Zangeneh stressed that the Islamic Republic will never give in to the US restrictive measures and will rather pay special attention to shared oil fields.
"It is right that our production is low today, but we should increase capacities so that we can revive our market share whenever it is necessary. We will not surrender under any circumstances. Creating capacities is a strategic work in the oil industry," he said.
Zangeneh made the remarks before the signing of a $463 million deal between private joint-stock company Persia Oil and Gas Industry Development and the state-run National Iranian Oil Company (NIOC) to develop Yaran oil field that is shared with neighboring Iraq's Majnoon field.
According to the Iranian Oil Ministry's news agency Shana, the agreement aims to raise the field's output by almost 40 million barrels over a 10-year period.
The project needs $227 million in direct investment and a further $236 million in additional operating costs.
It also involves drilling new wells and repairing the existing ones as well as equipping wells with electrical submersible pump (ESP) systems and designing methods for Enhanced Oil Recovery (EOR).
The US has unleashed the "toughest ever" sanctions against Tehran, notably targeting its key oil exports, since scrapping the 2015 nuclear deal, officially called the Joint Comprehensive Plan of Action (JCPOA).
The White House terminated sanctions waivers for major buyers of crude from the Islamic Republic in an attempt to bring Iran's oil exports to "zero."
Under pressure from the United States, foreign companies pulled out of deals to help develop Iran's oil and gas fields.
Iran has, however, turned to domestic companies to advance its projects in the oil sector.