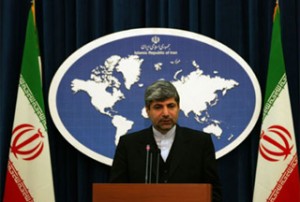 Iran's Foreign Ministry Spokesman Ramin Mehmanparast has accused the US and the Western countries of supporting terrorism.
Mehmanparast said the US claims to be a pioneer in fighting terrorism in the region, while it is providing terrorists with safe havens.
He also said that Germany's recent decision to release Abdolrahman Haji-Ahmadi, the leader of the Party for Free Life in Kurdistan (PJAK) terrorist group, is proof of this fact.
Mehmanparast emphasized that Berlin made the decision, while the terrorist leader ad already confessed to the group's crimes.
PJAK is an internationally recognized terrorist group. Its members are wanted in Iran for carrying out numerous deadly operations and bomb attacks in the country's west.
Iran summoned the German ambassador to Tehran on Wednesday over the release of Haji-Ahmadi.