Iran
Middle East
North America
Iran says will keep watchful eye on foreign military bases, warns about 'suspicious' nuclear projects
The secretary of Iran's Supreme National Security Council (SNSC) has warned about "suspicious nuclear projects" pursued by certain regional countries as well as efforts aimed at undermining the security of the Islamic Republic and the region.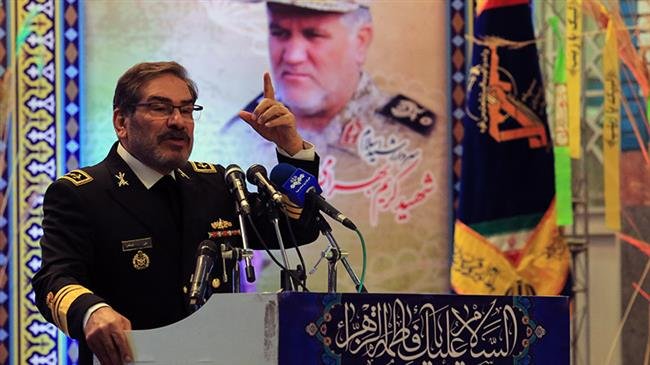 "Some [countries in the region] are spending petrodollars on suspicious nuclear projects… [which] can pose a more serious danger and crisis than the threat of Takfiri terrorists and Daesh to the region and even the world," Ali Shamkhani said on Wednesday.
He noted that the emergence of such new threats would prompt Iran to re-devise its defense strategy based on the nature and geography of the threats so that it would be able to meet the needs of the country and the Armed Forces.
"We constantly watch all activities of foreigners and certain evil countries of the West Asia region, especially certain unusual activities of some regional countries that have a proven black record of supporting terrorist movements," he added.
Shamkhani was apparently pointing to reports that the administration of US President Donald Trump was seeking to advance the sale of nuclear power technology to Saudi Arabia.
A congressional report reveals that the United States is "rushing" to transfer "highly sensitive nuclear technology" to Saudi Arabia.
In February, a congressional committee revealed in a report that the Trump administration was trying to bypass the US Congress to transfer sensitive nuclear power technology to Saudi Arabia.
The House of Representatives' Oversight Committee, which compiled the report, said it was now "launching an investigation to determine whether the actions being pursued by the Trump Administration are in the national security interests of the United States or, rather, serve those who stand to gain financially as a result of this potential change in US foreign policy."
"The Trump Administration's interactions with Saudi Arabia have been shrouded in secrecy, raising significant questions about the nature of the relationship," the 24-page report said.
US Energy Secretary Rick Perry said at a conference on Tuesday that talks with Saudi Arabia about the deal were making progress.
"We're still making progress, we're still talking," Mr Perry said. "Our intent is for them to be our partner as they build their nuclear energy."
Iran's foreign minister calls the United States' planned sale of nuclear technology to Saudi Arabia a hypocritical move.
The Trump administration's move towards a nuclear deal with Saudi Arabia comes as the US president unilaterally withdrew Washington from a landmark nuclear deal between Iran and six world powers in May 2018 despite international criticism and numerous reports by the UN nuclear agency verifying Tehran's compliance with its obligations under the deal, which was endorsed by UN Security Council Resolution 2231.
Iran to keep watchful eye on foreign bases 
In separate remarks on Wednesday, Shamkhani also warned about the establishment of military bases by certain extra-regional countries near Iran's borders, stressing the Islamic Republic would keep a watchful eye on them.
"Any effort aimed at destabilizing Iran's borders by any group or country will be met with [our] preemptive and a severe offensive," Shamkhani said, adding that Iran "will not allow the spearheads of creating instability and their mercenaries to undermine the security of nations and stability of the region."
The senior Iranian official said that over the past two years, certain terror groups backed by some regional and extra-regional countries struggled to undermine the security of the country's northwestern borders, but their attempts were foiled due to the vigilance and serious action of the Armed Forces and security bodies.
The US has set up numerous military bases and stationed thousands of forces in different countries of the world, including Iran's immediate neighbors Afghanistan and Iraq.
In an interview with CBS television network broadcast on February 3, Trump highlighted the importance of a military base in Iraq, saying it was crucial to the surveillance of Iran's activities.
"We spent a fortune on building this incredible base, we might as well keep it. And one of the reasons I want to keep it is because I want to be looking a little bit at Iran" he said in an apparent reference to Ayn al-Asad Airbase in western Iraq, which he visited during an unannounced trip to the country last December.