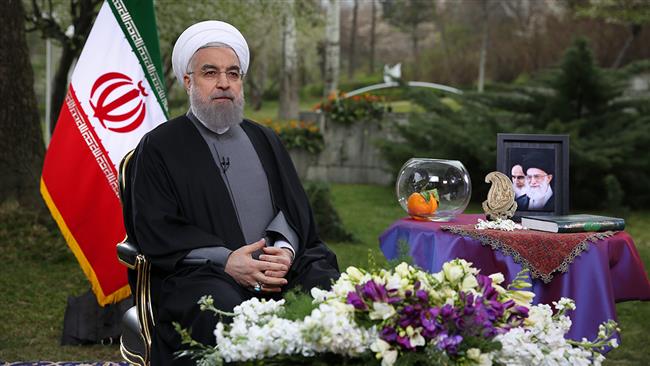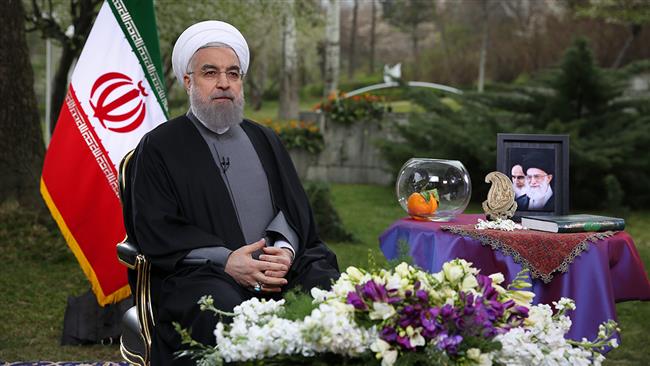 Iran's President Hassan Rouhani says the country seeks to achieve an economic growth rate of five percent during the new Iranian calendar year, which started on March 20.
"We can achieve a five-percent economic growth rate through collective efforts; a growth which would be higher than that of all our neighboring countries," Rouhani said in his annual message to the Iranian nation on the occasion of the Persian New Year early on Sunday.
He added that such a growth would result in economic prosperity and job creation, saying, "What is important to our entire nation is to achieve sustainable employment and this task will start, God willing, in the next year" through the implementation of the administration's special plan, dubbed 'JCPOA 2'."
By using the acronym JCPOA 2, Rouhani was alluding to a comprehensive plan drawn up by his administration to spur the country's economic growth. The plan has been named after Iran's historic nuclear agreement with five permanent members of the United Nations Security Council plus Germany, also known as the Joint Comprehensive Plan of Action (JCPOA), which was clinched last July in Austria's capital city, Vienna. The JCPOA effectively put an end to all economic sanctions imposed on Tehran over its peaceful nuclear program. Implementation of the JCPOA, which started in January 2016 provided Iran with new opportunities to engage in economic cooperation with the world.
The president added that JCPOA 2 will initiate joint national action inside the country by fostering reconciliation and empathy among all groups.
He said the Iranian nation succeeded in scoring great victories last year and turning the nuclear program, which was considered as "a no-go area" by the rest of the world, into a valuable activity, which has been recognized by everybody.
Rouhani emphasized that empathy enabled the Iranian to do away with sanctions and provide new grounds for economic work.
"Banking, financial, monetary, oil, petrochemical, insurance, transportation and all nuclear sanctions were lifted and conditions became more prepared for our nation's economic activity," Rouhani said.
He further added that the Iranian nation also created a "great epic" during twin crucial elections on February 26 and turned the day into "the day of Iran's national might, peace and stability."
The president stated that the previous Iranian year was the "year of participation, success in the face of big powers and a year of paving the way for the country's prosperity in all sectors."
Rouhani said although last year was marked with difficulties and problems, Iran enjoyed the best conditions among oil exporting countries in terms of tranquility in the country, reduction of inflation rate and growth in the stock exchange.
The Iranian president expressed hope that the country would succeed in its march toward prosperity and increasing economic activities through close cooperation among all Iranian people in addition to constructive interaction with the world.