Iran
Iran seized over 5 tons of narcotics last month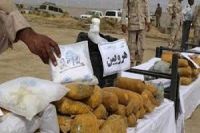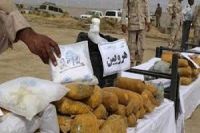 Iranian police forces have seized over five tons of different kinds of narcotics along the Iranian borders over the past month.
Press TV reported on Sunday, Coordinating Deputy of Iranian Police's Border Guard Command Seyyed Abbas Ata'yi pointed to the extensive land, air and sea border patrols in the course of last month and said that the operations had led to the seizure of 5,229 kilograms of narcotics, including opium, hashish, heroin and morphine, and the killing of three traffickers.
Iran's 1900-kilometer border with Afghanistan and Pakistan has frequently been used as the main drug trafficking route in the world.
Iran's police have teamed up with the country's Border Guard Command to counter narcotics trafficking through the Iran-Afghanistan border, known as the Zabol border, in southeastern Iran.
Border guard police have set up barbed wire, heat sensors, night vision cameras and guard posts to prevent drugs from entering Iran.
According to the UN Office on Drugs and Crime (UNODC)'s World Drug Report, Iran accounted for the highest rate of opium seizures (80 percent) in the world, as well as heroin seizures (30 percent) in 2011.