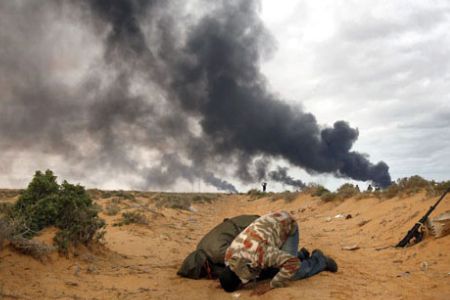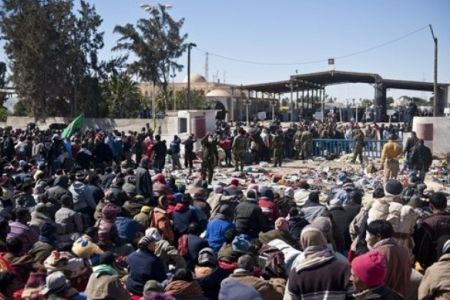 Iran's Red Crescent Society says it has sent its first batch of relief items as well as a 12-member medical team to the Tunisian border to assist displaced Libyans.
Deputy Manager of Iran's Red Crescent Society Heydar Heydari told Press TV on Friday that the country's first shipment of humanitarian aid has left for the Tunisian border on Friday night.
The Iranian shipment includes 36 tons of medical supplies and food stuff.
The official underlined that Iran is ready to send its second cargo, but it needs to know exactly what items are needed.
"Secretary General of the Libyan Red Crescent Abdul Hameed al-Madani told us on Thursday that they needed our assistance. Today these items and our team will fly to Tunisia. The Iranian relief workers will also set up a border camp for the displaced on the Libyan-Tunisian border," he said.
The Islamic Republic also plans to set up two field hospitals near the displaced persons camp, run by Iranian medical staff committed to stay and help the refugees as long as needed.
An estimated 120,000 to 140,000 displaced Libyans are said to be caught in the fighting between revolutionaries and forces loyal to embattled Libyan ruler Muammar Gaddafi.
Aid workers are warning that a humanitarian crisis is developing along Libya's border with Tunisia, where thousands of people fleeing from Gaddafi's regime every day.
Foreign forces started airstrikes against Libya late on Saturday after officials of a number of countries ordered a large-scale military intervention in the country in order to end the Gaddafi regime crackdowns.
Latest reports say US-led Western warplanes have struck Libyan ground forces for a seventh consecutive day near strategically-important towns.
The US and its Western allies have carried out a bombing campaign against Libya since the Security Council ratified a no-fly zone over the African nation.
Libya says many civilians have been killed in the airstrikes.