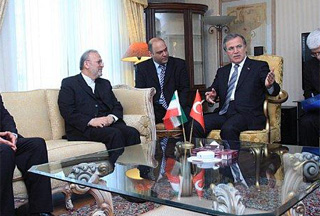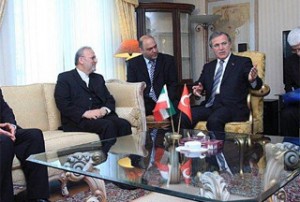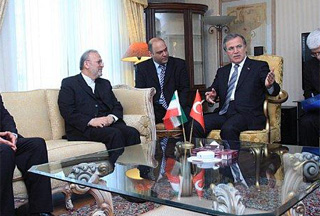 Iranian Foreign Minister Manouchehr Mottaki has criticized the UN Security Council for its selective policies and ignoring the Israeli crimes in the Gaza Strip.
During a meeting with the speaker of the Turkish parliament, Mehmet Ali Sahin, on Monday, Mottaki expressed regret over the loss of life onboard the flagship of a Gaza-bound aid convoy attacked by Israeli forces.
The May 31 attack killed at least 20 activist — including at least 8 Turkish nationals — and wounded dozens more in international waters.
"The Security Council does not act against Israel but instead passes a sanctions resolution against the Islamic Republic, disregarding 20 reports by the (International Atomic Energy) Agency about the non-diversion of Iran's nuclear activities," a Foreign Ministry statement quoted Mottaki.
Mottaki, according to the statement, said the Security Council's "double standard" in failing to punish Israel over its deadly attack on the Freedom Flotilla — a convoy of nine ships seeking to pierce the three-year Israeli blockage of the impoverished sliver — has damaged the international standing of the UNSC.
The deadly attack triggered massive protests worldwide, but Israel defied international condemnation and boarded another aid ship days after the assault.
Tel Aviv has also rejected a UNSC call to allow an international team to conduct a probe into the attack.