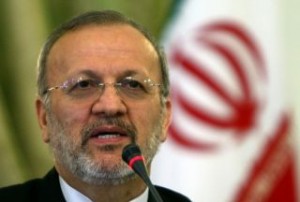 Iranian Foreign Minister Manouchehr Mottaki has lashed out at the dual-track policy of the UN Security Council (UNSC) and its silence on Israeli crimes.
Mottaki, who is accompanying the Iranian president in his visit to the western province of Chaharmahal-Bakhtiari, criticized the UNSC for passing a resolution against Iran over its peaceful nuclear program and failing to go further than launching a probe into confirmed atrocities committed by Israel.
The remarks come as the 15-member UN Security Council voted in favor of slapping a fourth round of sanctions against Iran on June 9 under the allegation that Tehran is seeking to build nuclear weapons.
The allegations are leveled against Tehran as the International Atomic Energy Agency has in numerous reports asserted that its inspectors and surveillance equipment at Iran's nuclear facilities have found no evidence of diversion in the country's declared nuclear material.
"A terrorist regime like the Zionist regime committed a verified crime in international waters. What has the Security Council done and what resolution has it passed in this regard to answer to the world?"Mottaki asked.
"It just announced that an investigation would be launched," he added.
The Iranian minister was referring to an earlier attack by Israeli navy commandos launched on the Gaza Freedom Flotilla in international waters, as a result of which 20 people were killed and 50 others injured.
Mottaki went on to warn that such double standard policies would undermine the status of the UNSC and its member states.
He added that Iran would express its protest at countries which voted for the recent UNSC sanctions resolution.
The Iranian government has brushed aside the UNSC resolution, which broadens financial and military sanctions, saying the move was a bad response to recent trilateral pro-diplomacy efforts that could have rendered the sanctions unnecessary.
Iran, Brazil and Turkey issued a nuclear fuel swap declaration on May 17, based on which Tehran announced readiness to exchange 1,200 kg of its low enriched uranium on Turkish soil for fuel for its medical research reactor.